California's solar energy market is booming
July 5, 2016
Solar power is gaining strong momentum in California
Solar energy generation has grown significantly in California from 2009 to 2014, according to the new California Green Innovation Index. The state has established a leading position in the solar energy market, investing heavily in this type of renewable power. While the state has shown a strong interest for solar power, it is also investing heavily in wind energy and biomass. Renewable energy has become an integral part of California's plan to become more environmentally friendly and reduce harmful emissions.
Solar energy market sees 1,378% growth in electrical generation between 2009 and 2014
According to the California Green Innovation Index, solar generation throughout the state grew by 1,378% between 2009 and 2014. Last year, grid-connected, utility-scale solar power systems generated some 15,592 gigawatt-hours of electrical power. The growth in solar generation has been a benefit for homeowners, who spent an average of 20% less on their energy bills in 2014. In 2015, some 3,266 megawatts of solar capacity was installed in the state. The solar energy market is expected to continue growing, especially as California invests more heavily in this form of clean power.
Wind power is showing impressive growth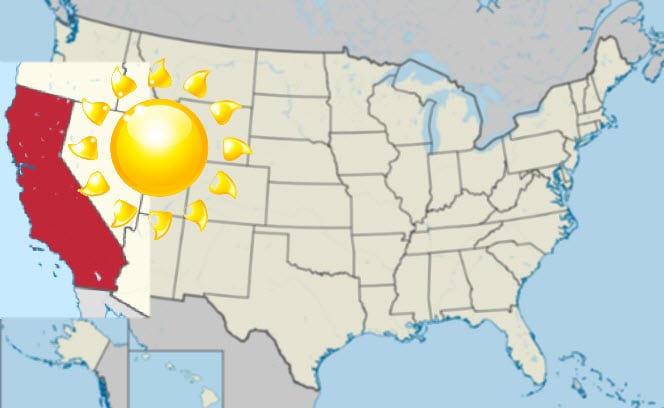 Wind energy generation has also been on the rise in California. Between 2009 and 2014, wind generation grew by 155%. Solar remains the state's most favored form of energy, but wind is beginning to gain momentum. The state has shown some interest in supporting offshore wind farms, which have the potential to generate more electrical power than their onshore counterparts. These energy systems are more expensive to develop, however, and represent significant logistical challenges that can slow their construction.
Emissions from the transportation space are falling as clean vehicles become more available
Transportation is also becoming more environmentally friendly in California. Emissions from the transportation space fell between 2011 and 2014 despite the number of vehicles on the road increasing. More electric vehicles have come to California, with registrations for clean vehicles growing by 244% between 2012 and 2014. The number of plug-in hybrid vehicles grew by 550% during that time period.