Hyundai to develop a new hydrogen fuel cell vehicle
December 31, 2015
Hyundai will be producing an alternative to its ix35 fuel cell vehicle
South Korean automaker Hyundai has plans to develop a new fuel cell vehicle, which will serve as a successor to the company's ix35. The new vehicle will be very similar to the ix35 in that it will also be a hydrogen-powered SUV. Hyundai has said that the new vehicle will feature advanced hydrogen fuel cell technology, which will make it more efficient than the ix35. The automaker has not yet revealed when the vehicle will be released.
Hyundai sees major promise in hydrogen fuel and how it can be used in transportation
Hyundai was the first company to begin mass production of a fuel cell vehicle with the ix35. Honda had succeeded bringing a fuel cell vehicle to the market several years ago, but this vehicle was only available in limited supply. Hyundai has found success where other automakers have failed, bringing its fuel cell vehicle to prominent markets throughout the world, particularly those in Europe. The automaker believes that hydrogen fuel cells will play a major role in defining the future of the transportation sector.
New vehicle will be more efficient and more powerful than the ix35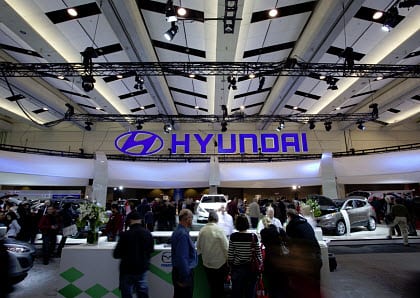 According to Hyundai, the new fuel cell vehicle will be able to travel more than 800 kilometers before needing to refuel. The top speed of the vehicle is expected to be 111 miles per hour. Hyundai's current fuel cell vehicle, the ix35, is able to travel some 600 kilometers before needing to be refueled. Equipped with advanced hydrogen fuel cell technology, the new vehicle may be able to find more success among consumers that are interested in clean transportation.
High cost of fuel cells and lacking infrastructure makes Hyundai's fuel cell vehicles less attractive to consumers
While Hyundai sees significant promise in fuel cell vehicles, these vehicles may struggle to find acceptance among consumers unless they become less expensive. Because the vehicle use hydrogen fuel cells, they are quite expensive when compared to their conventional counterparts. As such, consumers have shown limited interest in these vehicles. The lack of a comprehensive hydrogen fuel infrastructure has also inhibited the adoption of fuel cell vehicles.