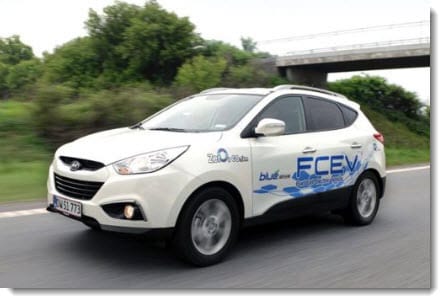 Hyundai trial in Aberdeen, Scotland, considered major success
May 28, 2012
Tucson ix35 generates buzz after completion of trial
Earlier this month, South Korean automaker Hyundai send its hydrogen-powered SUV, the Tucson ix35, to Aberdeen, Scotland, where it was tested by one of the city's newest car clubs: Commonwheels. This was one of the company's latest initiatives to promote its hydrogen-powered vehicle and show of the performance of its fuel cells. The automaker has been aggressive in its marketing recently, hoping to generate a great deal of hype before hydrogen vehicles are released into the commercial market within the next few years.
Trial shows the efficiency and performance of hydrogen fuel cells
Members of Commonwheels and the Aberdeen City Council participated in Hyundai's four-day trial, during which a total of 40 people took several Tucson ix35's for a spin. ITM Power, a leading manufacturer of hydrogen fuel cells and developer of fueling solutions, provided mobile fuel stations for the tests, allowing the Tucson to stay operational for the duration of the trial. Part of the aim behind the mobile fuel station from ITM Power was to show the efficiency of hydrogen-powered vehicles and that a high-tech infrastructure was not needed to support them.
Success of the trial may have dispelled misconceptions concerning fuel cells
After the trial had ended, it was declared a resounding success by members of the Commonwheels club and the Aberdeen City Council, along with ITM Power. Members of the City Council noted that hydrogen fuel cells were much more efficient than had been expected and may have been able to dispel some of the misconceptions that had been holding support for the alternative energy back. Because of the support Scotland has been showing for clean energy vehicles, Hyundai expects that the nation will be an ideal location for the release of vehicles using hydrogen fuel cells.
Hyundai continues to gain support throughout Europe
Work on an infrastructure is still required in order for hydrogen-powered vehicles to be viable. This is expected to be a reasonable endeavor due to the rampant support hydrogen fuel has been getting in the Europe lately. Hyundai's Tucson ix35 was recently chosen as the vehicle of choice by the European Commission, which has been one of the primary supporters of hydrogen transportation.