Hyundai's hydrogen fuel car reaches major milestone
June 12, 2015
Fuel cell vehicle achieves major accomplishment one full year after its commercial release
It has been a full year since Hyundai made its fuel cell vehicles, the Tucson ix35, commercially available and the vehicle has reached a significant milestone. Hyundai took a strong interest in clean transportation years ago, intending to release electric vehicles in the future. While batteries have been the staple of conventional electric vehicles for years, hydrogen fuel cells are quickly beginning to replace these energy systems. Hyundai has focused on using fuel cells to develop a new generation of clean vehicles.
Fuel cells continue to gain momentum throughout the auto industry
Fuel cells have come to hold a prominent position in the auto industry, but they are not yet as popular as conventional batteries. These energy systems use hydrogen as a fuel source and can produce large quantities of electrical power without producing emissions. As such, they have become an important focus for automakers that are interested in reducing the emissions that their vehicles produce every year. Hyundai was among the first automakers to release a fuel cell vehicle, falling behind Honda, but beating Toyota to the market.
Hyundai's fuel cell vehicle reaches 475,000 miles of travel without producing emissions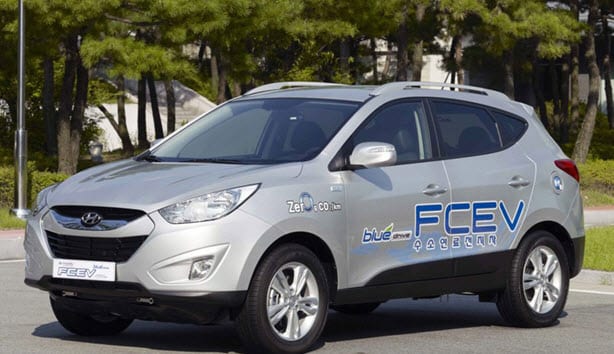 Currently, Hyundai has delivered 70 of its fuel cell vehicles to California, with several others being delivered throughout Europe. To date, these vehicles have accumulated more than 475,000 miles of travel, producing no harmful emissions. Though this is an important milestone for Hyundai, as it represents the first full year of commercial operation that the vehicles have completed, the Tucson ix35 still needs the support of a hydrogen fuel infrastructure in order to find success.
Hydrogen infrastructure needed for fuel cell vehicles to become successful
Much of the world lacks the infrastructure needed to support fuel cell vehicles. The lack of hydrogen fuel stations has significantly slowed the adoption of fuel cell vehicles, because these vehicles are seen as somewhat inconvenient to consumers. Automakers, like Hyundai, have been investing in the establishment of a hydrogen fuel infrastructure, but it could be several years before such an infrastructure can take form in prominent markets.