New energy technology may provide alternative to the flaring of methane gas
December 31, 2014
A California company claims it has developed an oxidizer that could convert methane gas into electricity in the oil field.
According to the Houston Chronicle, Ener-Core, the small company behind the energy technology, says that its device can convert low-quality methane gas (which would typically be flared) into electricity so, instead of energy companies burning money, they could make a profit from the excess gas.
The growth of flaring has been a major downside to the energy boom.
The burning off of extra methane, a process known as flaring, has been increasing due to the energy boom. When companies drill for oil, they flare the excess natural gas that is produced from the drilling to prevent releasing methane directly in the air. Methane is a greenhouse gas, which is considered by some to be more hazardous to the atmosphere than carbon dioxide.
Flaring is a controversial practice. This is not only because it destroys a natural resource, but some critics argue that in spite of the burning process that is designed to reduce the venting of harmful methane gas, it can still escape. Furthermore, burning methane produces carbon dioxide, which is also a pollutant.
In addition, while the excess natural gas could technically be harnessed for sale, infrastructure is lacking to pipe it and sell it and, for some energy companies, it is cheaper to burn it than to harness it for sale.
Ener-Core's energy technology may provide a win-win solution.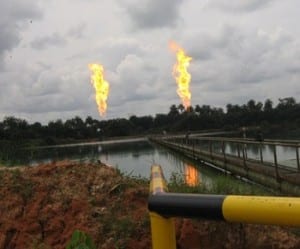 Alain Castor, Ener-Core's CEO, said that "We have a tool that enables the conversion of greenhouse gases directly into power."
The device that the small California-based company has created is known as an oxidizer and the technology is already being produced and is running in several locations.
The device is a cylindrical tower with a height of 23 feet that connects to a turbine and can convert low-quality gas into electricity, instead of wasting that gas through flaring. It can work anywhere methane is flared, including oil and gas operations, industrial sites, coal mines, steel mills, landfills, and food processing plants.
The vice president for U.S. climate and energy at the Environment Defense Fund, Jim Marston, said that the oxidizer looks promising and that "It does seem to be one of the more creative ways of dealing with the problem of methane that's not easily put into pipelines."
Ener-Core says that it has an exclusive licensing agreement with Dresser-Rand Group, a company based in Houston, Texas. The agreement gives Dresser-Rand exclusivity to the energy technology for certain MW (megawatt) deployment over other gas turbine manufacturers. Globally, Ener-Core currently has three running units that are generating incredible results. However, the deal with Dresser-Rand has enabled the company to considerably expand its reach.