Recent Alberta earthquakes could be connected to fracking
November 14, 2014
There may be a correlation between the latest seismic activity in the Canadian province and hydraulic fracturing.
While the earthquake that occurred in Alberta on November 2 in Peace River, that Natural Resources Canada (NRCan) registered at a 3.0 magnitude, was only "lightly felt" in northern Alberta from Three Creeks to St. Isidor and no damage was reported, a recently published study in the Journal of Geophysical Research indicates that the quakes may actually be related to fracking, reported CBC News.
The study is the first of its kind to be carried out in Canada that connects industrial activity to quakes.
A seismologist at the University of Alberta, Jeff Gu, said that although the earthquake may have been the result of shifting rock formation in the area, as the region is no stranger to earthquake faulting, he did say that "having actual earthquakes in that area is relatively recent, relatively new." For this reason, Gu thinks that there could be another possible cause behind the quake.
Gu is one of the three authors of a newly published study in the peer-reviews publication, the Journal of Geophysical Research. The study analyzed four years of earthquake data around Rocky Mountain House. It concluded that the injections of waste-water into the ground, which is part of the fracking process, is highly linked with spikes in earthquake activity in the region. Thus, the conclusion drawn by the study, according to Gu, was that industrial activities "could, in some cases, potentially trigger or facilitate earthquake occurrences."
There is still no solid proof that fracking is related to the earthquakes.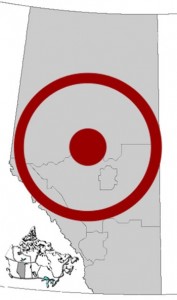 According to Alberta Geological Survey, earthquake activity has been on the rise in the province since the 1960's. Furthermore, the recent Peace River quake is not the only quake the province has experienced in the past few months. Back in August, a 4.3 magnitude quake was recorded near Rocky Mountain House and in October, a 2.7 magnitude one was registered approximately 4km southwest of Banff.
Gu commented on hydraulic fracturing-related quakes by saying "There has been more and more evidence, increasing evidence, in the last few years in particular — in Arkansas, in Texas and actually more recently here." However, further research needs to be conducted to determine if fracking is the actual culprit behind the quakes or if they are naturally occurring.