Solar Powered Smartphone Battery Cases
January 25, 2014
One of the most annoying things about smart phones…
is how the battery charge can get positively devoured in a short period of time, without you being aware of it. This usually happens when you forget that you're running multiple applications (the GPS is a big culprit), or your phone is actively searching for a wireless network, or when you desperately need to have access to a functioning phone because of something crucial. Naturally, you run out of power, usually in mid-conversation, and you can't even call the person back and tell them what happened!
If only there was a way that you could eke out even just ten minutes' worth of extra power somehow. Maybe a hamster wheel or a windmill or something.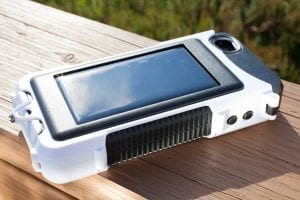 Here Comes The Sun
No need to bother the hamsters. Fortunately, our friend the sun can now be employed to extend the life of your smart phone's battery charge, enabling you to receive that important business phone call or upload that adorable picture of your cat in a pirate costume. EnerPlex, a Colorado-based company unveiled a line of solar powered smart phone battery cases at the 2014 Consumer Electronics Show in Las Vegas.
Priced at just under $100, this battery case features a 2000mAh battery. It charges either via the micro-USB or sunlight. The circuitry is designed so that when you plug the device into a USB port, the phone gets charged first, then the battery. You end up getting an additional ten minutes of charge time after about a half hour's exposure to the sun. All told, the case doubles the phone's battery life.
And not only does the case extend the battery life, it also helps with the overall life of the phone, since the reinforced case protects your phone from those aggravating and potentially destructive drops, scrapes, and bumps. The battery case currently is available for the iPhone 4 and 4S, and Samsung Galaxy phones.
A Hot Warning
If there's one thing that desktops, laptops, smart phones, and other related electronics don't like, it's excessive heat. Therefore, it should come as no surprise that the smart phone with the battery case should not be left out in the direct sunlight to recharge. The recommended way to charge is to leave the case in the sun by itself, then add the phone once the battery is fully charged.
Mobile Convenience
When you think about it, the whole point of a mobile phone is that is should let you be, well, mobile. With the solar-powered charging capability, you can achieve that mobility. Granted, the solar charging function is not meant to replace the good old reliable "hook it up to an outlet or computer" full charging option, but it doesn't take much imagination to picture the practicality and convenience of this little gadget.
Byline: John Terra has been a freelance writer since 1985. He writes about everything from running 5K's to data integration using companies like Syncsort.com. His smart phone usually runs out of power just as he's taking a once in a lifetime picture.