Toyota's hydrogen fuel vehicle is finding some success in California
November 20, 2015
Automaker has delivered 22 units of the Mirai to customers in California
Toyota's new fuel cell vehicle, the Mirai, is beginning to find traction among consumers in California. In the first month that the vehicle was made available, some 22 units of the Mirai have been delivered to drivers in the state, according to Toyota. Many consumers have shown interest in the Mirai because of its high efficiency, with the ability to travel more than 300 miles on a single tank of hydrogen fuel.
Toyota intends to sell some 30,000 units of its fuel cell vehicle globally by 2020
The Japanese automaker has plans to sell more than 30,000 units of the Mirai throughout the world by 2020. When the automaker first launched the Mirai in Japan, demand for the vehicle was unexpectedly high. This resulted in Toyota increasing production on the Mirai in the hopes of accommodating consumer interest. The company has also launched a new plan to phase out conventional vehicles that run on traditional fuels, with these vehicles becoming a thing of the past by 2050.
California continues to expand its hydrogen fuel infrastructure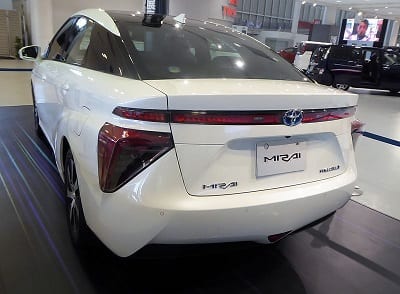 While the Mirai is beginning to gain more support in the United States, with California being Toyota's favored market, the lack of a hydrogen fuel infrastructure is slowing adoption among consumers. California is home to one of the country's largest hydrogen infrastructures and the state has committed itself to building more hydrogen fuel stations in the coming years. Once the infrastructure has been well established, more consumers are expected to show interest in fuel cell vehicles, especially as these vehicles become more available.
Customers can take advantage of state subsidies, reducing the overall cost of the Mirai
Toyota has reported that it has received more than 2,000 expressions of interest in the Mirai thus far. The vehicle, however, is not yet commercially available, with Toyota only offering the Mirai to eligible customers. In California, these customers can also take advantage of subsidies being offered by the state. These subsidies are meant to cut down on the cost of the Mirai, creating an incentive for consumers to purchase the vehicle.