Wind energy to power Dow's Freeport manufacturing site
March 18, 2015
A new wind farm in South Texas will help the Dow Chemical Company further reduce its carbon footprint.
The Dow Chemical Company has taken another step toward shrinking its carbon footprint by signing a long-term agreement with a new wind farm that is currently under construction in South Texas, which, once it is built, will supply wind energy to Dow's Freeport Texas Manufacturing facility, providing it with 200 MW (megawatts) of wind-generated power, every year.
The wind farm is expected to be finished in the first quarter of 2016.
The farm is scheduled to be up and running in the first quarter of next year and will cover almost 35,000 acres. As was previously stated, it will provide the Dow facility in south Texas with 200 MW of energy, annually. To put that into greater perspective, that amount of energy is about equal to providing power to over 55,000 homes.
The renewable wind farm is being constructed by a subsidiary of Bordas Wind Energy, LCC, which is as joint venture between MAP and Enerverse, LCC. The long term agreement that Dow has made with the farm is part of the company's energy plan and sustainability goals.
Dow will be become the third largest corporate purchaser of wind energy in America.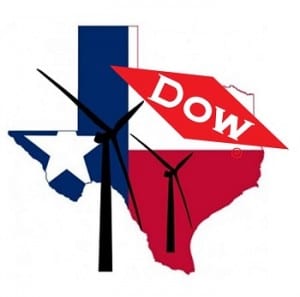 Although the chemical company will be the third largest corporation to buy wind power in the U.S., it will become the first company in the United States to run a manufacturing facility with renewable energy at this level.
The vice chairman of business operations at Dow, Jim Fitterling, said that by signing the agreement, "Dow is taking a serious approach to our future energy needs in Texas and cost-competitive wind energy is a great opportunity."
The global business director of the Energy and Climate Change portfolio at Dow, Seth Roberts, also said that "Adding large scale renewable energy to Dow's manufacturing process is just one smart move that we can make to secure a future of sustainability, growth and long-term competitive advantage."
Under its sustainability goals, Dow has committed to decreasing its carbon footprint, as well as securing 400 MW of clean power by 2025. The company says it is on track for meeting its 2025 goal and its new wind energy agreement is definitely a step in the right direction.