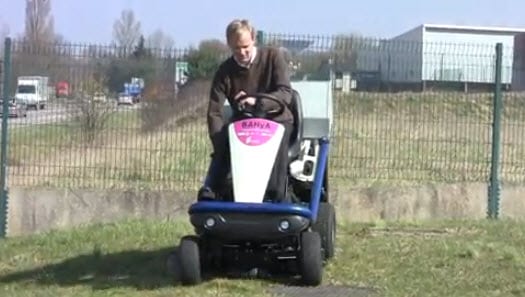 MaHyTec creates world's first hydrogen-powered riding lawnmower
April 27, 2012
Hydrogen lawnmower as an alternative to high-polluting models
MaHyTec, a developer and producer of hydrogen fuel tanks used for mobile applications, has unveiled the world's first hydrogen-powered riding lawnmower. The lawnmower features a small, but powerful internal combustion engine that has been modified to run on hydrogen gas. The lawnmower features a storage tank that can provide the vehicle with enough fuel to run for hours on end. The company had decided to manufacture the riding lawnmower because it considered conventional lawnmowers to be too polluting and no longer viable given the availability of alternative energy systems.
MaHyTec inspired by pollution cutting capabilities of hydrogen fuel
The company cites a report released by the California Air Resources Board, which indicates that the pollution that lawnmowers produce is 93 times higher than that produced by cars, per liter of gas. MaHyTec believes that battery-powered lawnmowers are not a viable alternative to conventional gas-powered lawnmowers because of issues concerning efficiency. The combustion engine used in the lawnmower makes use of hydrogen gas instead of gasoline, which produces no carbon emissions.
Company expects to commercialize lawnmower
MaHyTec currently has tentative plans to release the riding lawnmower to the commercial market. The company is currently acquiring financial support for the endeavor and working with partners to make changes to the lawnmower to make it more appealing to consumers. The first prototype of the lawnmower has already been sold to a professional gardening company in France. MaHyTec believes that this is the first sale of many to come in the future.
Adoption of hydrogen fuel may reduce the cost of fuel cells
The uses of hydrogen fuel are quite varied. Recent developments in fuel cell and storage technology have made it easier for companies to adopt hydrogen and develop systems based upon its use. MaHyTec is an example of such a company and believes that its creation of the world's first hydrogen-powered riding lawnmower will serve as an example that other companies can follow. As the adoption of hydrogen energy expands, the cost of fuel cells is expected to drop. Cost has been one of the most significant detractors of hydrogen fuel and has been targeted as a serious issue to solve.
BAHyA, la tondeuse hydrogène du Grand Dole by TVDole
*Warning: It's all in French.