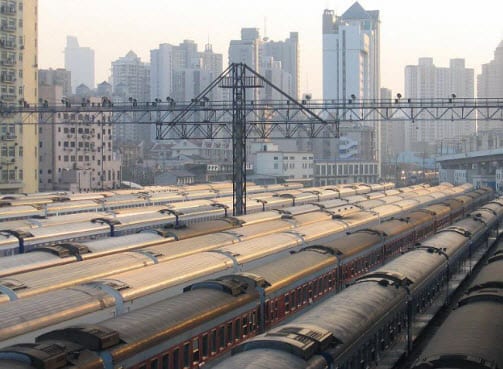 China's public railways may soon be powered by solar energy
May 24, 2012
Chinese companies come together for new solar energy project
Three Chinese companies have come together to help bolster the country's public railway infrastructure with solar energy. Ascent Solar Technologies, a developer of high-tech and flexible photovoltaic solar technologies, has partnered with Shenzhen Radiant Enterprise and the Third Railway Survey and Design Institute Group Corporation of China. Together, the three companies will work on incorporating solar energy into the country's railway system, hoping that renewable fuel will help cut the country's energy costs and encourage economic growth.
Country has shown strong support for alternative energy due to rampant growth
China has been throwing a great deal of support behind solar energy in recent years. The country has a strong belief that alternative energy will play an important role in its future. China has entered a period of rapid industrialization by economic growth. This growth and industrialization has led to an expanding population, which is requiring more energy as it grows. Because of its massive population, China is often criticized for its high level of pollution, another factor contributing to the country's interest in alternative energy.
Railway to reach 800MW of capacity over the next five years
Together, the three companies expect that the solar capacity for China's railway infrastructure will reach 800 megawatts within the next five years. The companies are working to attention government approval for their solar energy technologies and installations and expect that construction on their expansive project will begin at some point in 2013. Once the project is completed, solar energy is expected to account for the majority of the Chinese railway's electricity demand.
Country continues to show strong support for both solar energy and fossil-fuels
China is emerging as a leader in alternative energy, despite the governments continued support of fossil-fuels. Government officials claim that the country's support of fossil-fuels is linked to its rapid industrialization, suggesting that the country's economic and technological growth would stagnate without the performance of conventional energy systems. Nonetheless, China has made an aggressive effort to adopt and incorporate alternative energy systems – specifically those relating to solar energy – to eventually move away from fossil-fuels.