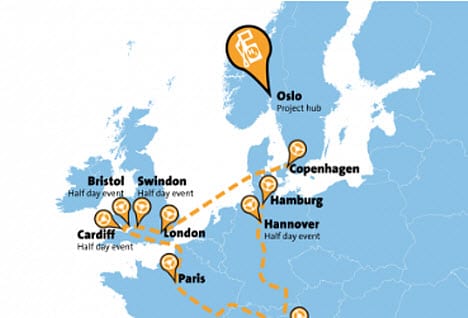 European Hydrogen Road Tour begins in Germany
September 13, 2012
European Hydrogen Road Tour marks significant milestone for auto industry
The first ever European Hydrogen Road Tour has begun, marking the first the world's major vehicle manufacturers have come together to promote hydrogen transportation. Nearly two years ago, Mercedes-Benz embarked on a journey that would take its hydrogen-powered vehicles around the world to show off their viability, but the European Hydrogen Road Tour represents the first time several companies have opted to work together for the same purpose. The event will take place over the course of one month and aims to demonstrate that hydrogen transportation is ready for commercialization.
Automakers come together to show off hydrogen-powered vehicles
Mercedes-Benz, Honda, Hyundai, and Toyota have all come together to participate in the event. The automakers will be working closely together in order to ensure the event is a success. Europe was chosen for the event because of its already robust hydrogen fuel infrastructure. This infrastructure is the result of work coming from many automakers, and will serve as a foundation for the new collaboration that has emerged in the industry.
Events will highlight the capabilities of hydrogen-powered vehicles
Special events have been planned that will take place in cities throughout Europe. These events will highlight the capabilities of hydrogen-powered vehicles and how they can lead to clean transportation, lower fuel costs, and a healthier environment. The European Hydrogen Road Tour began in Hamburg, Germany, and will make its way to Hannover, Bolzano, Paris, Cardiff, Bristol, Swindon, London, and Copenhagen. Along the journey, the vehicles showcased in the event will receive fuel from various organizations, such as H2 Logic Denmark.
Event may prove that Europe is ready for hydrogen transportation
The European Hydrogen Road Tour aims to put to rest many of the concerns that surround hydrogen transportation. The efficiency and performance of hydrogen-powered vehicles has long been questioned, but automakers are keen to show that these vehicles are capable of outperforming conventional models in both fuel efficiency and performance. The event will also show that the European hydrogen fuel infrastructure may be ready for the commercialization of hydrogen-powered vehicles.