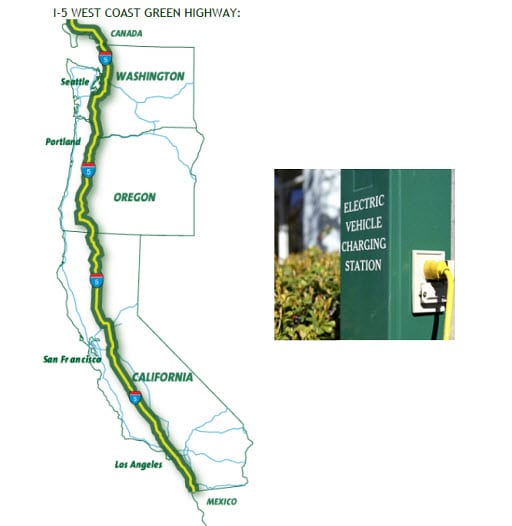 West Coast gets 8 new electric charging stations to help bolster the alternative energy infrastructure of the region
March 21, 2012
Interstate 5, the main highway that connects the West Coast states of the U.S., has become home to 8 new electric charging stations and is the latest addition to the West Coast Electric Highway, an ambitious initiative to establish an alternative energy infrastructure in western states.
The stations begin at California's northern border and extend to the far north of Oregon. Each station is capable of providing energy to electric cars and fills a gap in the current infrastructure to support these vehicles.
Each station is equipped with fast-charging technology. Electric vehicles will be able to reach full charge within 20 minutes. For now, the electricity provided at these stations is free of charge, a major boon to electric car owners. The stations are part of an agreement amongst the Governors of California, Washington, and Oregon to promote the use of electric vehicles and abandon fossil-fuels.
These are just the latest additions to the so called Electric Highway, with many more planned for the future.
The initiative is funded by federal grants. These grants will continue to support the initiative for the foreseeable future. The stations are located approximately 25 miles apart and will provide drivers with enough energy to reach the next station with surplus energy. The West Coast is not the only place in the U.S. to have these kinds of electric charging stations. Such stations are also located in Tennessee.