Wind Power Market Research Report, Update 2015 – Global Market Size, Average Price, Turbine Market Share and Key Country Analysis to 2025
August 18, 2015
The Report Wind Power Market, Update 2015 – Global Market Size, Average Price, Turbine Market Share and Key Country Analysis to 2025 provides information on pricing, market analysis, shares, forecast, and company profiles for key industry participants. – MarketResearchReports.biz
"Wind Power Market, Update 2015 Global Market Size, Average Price, Turbine Market Share and Key Country Analysis to 2025", the latest report from industry analysis specialist GlobalData, offers comprehensive information on and analysis of the global wind market.
The report provides a clear overview of and detailed insight into the global wind market. It explains the key drivers and challenges affecting the market and provides data covering historic and forecast market size, average capital cost, Levelized Cost of Electricity (LCOE), and installed capacity and generation globally, regionally and in the key countries of China, the US, the UK, Germany, India, Canada, South Africa and Brazil. In each of the countries covered, information on active and upcoming power plants and average turbine size is also provided.
View Full Report at http://www.marketresearchreports.biz/analysis/293882
The report uses data and information sourced from proprietary databases, primary and secondary research, and in-house analysis by GlobalDatas team of industry experts.
Scope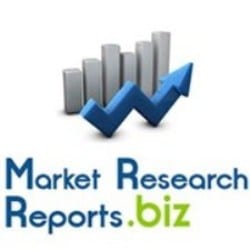 Information at a global level; at regional level, covering Asia-Pacific, South America, Europe, Middle East and Africa, and North America; and at key country level, covering China, the US, the UK, Germany, India, Canada, South Africa, and Brazil
Coverage of the key growth drivers and challenges related to the global wind power market
Historic and forecast data for cumulative and annual installed wind power capacity and power generation during the 2007-2025 period ; installed capcity and power generation is broken down by onshore and offshore, and is provided at a global level, regional level, and key country level
Average turbine size for onshore and offshore installations for the 2006-2020 period, by region and for key countries
The market shares of the major turbine manufacturers in 2014 for key countries and at a global level
Capital cost and market size data at key country and global level
The top active and upcoming wind power plants by country
Download Sample Copy of this Report at http://www.marketresearchreports.biz/sample/sample/293882
Reasons to buy
This report will enable the buyer to
Facilitate decision-making based on strong historic and forecast data for the wind power market
Maximize potential in the growth of the wind power market
Identify key partners and business-development avenues
Respond to competitors business structure, strategy and prospects
About Us
MarketResearchReports.biz is the most comprehensive collection of market research reports. MarketResearchReports.Biz services are specially designed to save time and money for our clients. We are a one stop solution for all your research needs, our main offerings are syndicated research reports, custom research, subscription access and consulting services. We serve all sizes and types of companies spanning across various industries.
Contact  Us
Office: State Tower
90 State Street, Suite 700
Albany, NY 12207
United States
Tel: +1-518-621-2074
Website: http://www.marketresearchreports.biz/
E: [email protected]