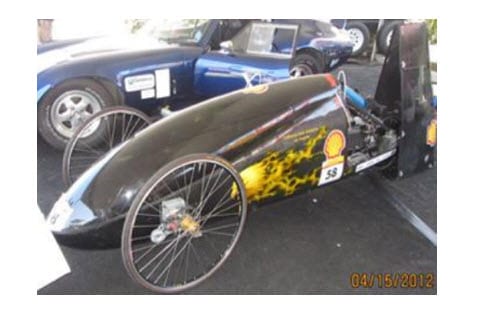 California State University attends Toyota Grand Prix with hydrogen powered car
April 21, 2012
CSULA shows of hydrogen-powered Super Eagle during Grand Prix
The California State University, Los Angeles, (CSULA) attended the 38th Annual Toyota Grand Prix in Long Beach, California, this year. The university brought along its hydrogen-powered Super Eagle vehicle, which was received with much acclaim from others attending the event. The Grand Prix brings together some of the largest names in motorsports from around the world each year. The event also serves as a platform to showcase emerging trends and technologies in the auto industry. Hydrogen and fuel cells are one of these technologies and both were featured during the event.
Hydrogen gas derived from solar power
The Super Eagle was built by CSULA students and is powered by hydrogen that is generated through the use of solar energy. Last year, the university installed an expansive solar energy system which is capable of generating 40 kilowatts of electricity each day. This system is used to power many of the university's operations, but it also provides electricity to on-site hydrogen fuel cells. These fuel cells use the electricity to create hydrogen gas, which can then be used to generate more electricity or, in this case, as a fuel for the Super Eagle.
Hydrogen fuel promoted with the help of Super Eagle
On April 15, the Super Eagle took to the road at the Toyota Grand Prix. The vehicle was featured during a parade lap around the event's main track. The vehicle was able to reach speeds of up to 25 miles per hour during the parade lap. The Super Eagle makes up for its lack of speed with its environmentally friendly energy system. The vehicle is powered entirely by hydrogen fuel cells, which produce no harmful emissions into the environment. After the lap, the Super Eagle was presented at the IndyCar ceremony preceding the day's races.
Hundreds of people were able to get a close look at the vehicle during the presentation and learn more about hydrogen fuel cells. Hydrogen fuel has become one of the auto industry's major focuses recently. Most major automakers are developing vehicles that run on hydrogen fuel cells and plan to release these vehicles into the commercial market by 2015. These companies have been working to promote hydrogen fuel amongst consumers and vehicles like the Super Eagle have proven very useful in this endeavor.
---
Article: California State University attends Toyota Grand Prix with hydrogen powered car
Article Source: Hydrogen Fuel News
Author: Stephen Vagus
---
California State University attends Toyota Grand Prix with hydrogen powered car
---