Green energy project comes to Ontario schools
May 27, 2015
Solar panels will be installed on the roofs of over two dozen schools.
According to a report from CTV News Barrie, 27 public schools in Simcoe County, a county located in Southern Ontario, Canada, will soon have solar panels installed on their roofs, and these installation are not only serving the purpose of providing the school with green energy, but these solar panels will also be a source of study for everyone within the Simcoe County District School Board (SCDSB).
Data from the solar project will be collected and used for educational purposes in the schools.
The information that is collected from the solar energy project will be utilized for class materials in science lessons and other school subjects, providing the students of these schools with a unique learning experience.
However, there is more than just a scientific aspect to this project. There is a major business factor, as well. Jessica Kukac, the SCDSBs environmental systems coordinator, explained that the SCDSB has a roof leasing agreement with their partners that are responsible for developing and maintaining the system. The partners are paid for the energy that is sold back to the province's grid and the school board is paid for the roof space that is required to keep the solar energy system in place.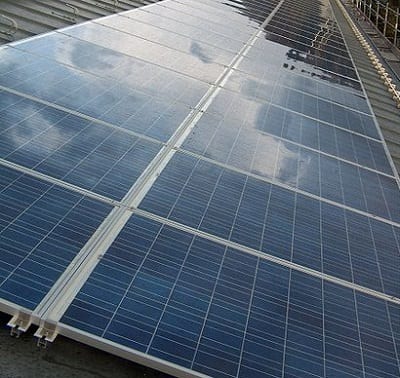 "This is really a unique opportunity for us to be part of something that's so revolutionary to have green energy come directly to our schools," Kukac said.
Students throughout the county will have the opportunity to benefit from the green energy project.
Although the solar rooftop panels will be installed on the roofs of only 27 public schools within the Simcoe County District School Board, other schools within the county will have access to the data that becomes available. Therefore, everyone will have the chance to learn from the Canadian solar project.
Mikaila Hunter, a Grade 11 student from Nantyr Shores Public School, one of the schools receiving the rooftop solar panels, commented on the green energy project, saying that she's looking forward to the new lessons. She added that when students see it's possible to generate energy from solar planes, they will see its benefits and use it when they are older. "If they're interested they might want to put it in their house, use it some way in the future," Hunter said.