Thousand of Jordan's Mosques to receive rooftop solar energy
March 5, 2015
By the end of the year, 6,000 Mosques in Jordan will embrace renewable energy.
The Arab kingdom in the Middle East does not have the same gas and oil resources, like many of its neighbors, which means it is forced to rely heavily on fuel imports to reach the majority of its energy demand, but a new initiative, that has been announced by the nation's Ministry of Energy and Mineral Resources, aims to install rooftop solar energy on every one of Jordan's 6,000 mosques by the end of 2015.
Currently, Jordan depends on fossil fuel imports to meet approximately 95% of its energy demand.
This amount of energy dependency does not only mean the kingdom is subject to regional unrest and the whims of the international oil market, but according to ThinkProgress, it is "economically detrimental" because the country's fuel imports take up 40% of the nation's budget. However, the country plans to do something about this dependency, by turning to renewables.
Near the end of 2014, the energy minister revealed that many green energy projects, which will total to1,800 MW (megawatt) of capacity, will be linked to the country's power grid by the end of 2018. The renewable energy plan will consist of large-scale solar energy and wind energy projects, which will involve 12 power purchase agreements to develop 200 MW of solar projects. The first buildings to receive solar power makeovers are the 6,000 mosques located throughout the country.
The solar energy project will start with the installation of PV solar systems on 120 mosques.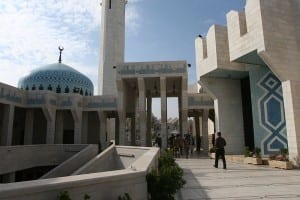 According to a representative of the Ministry of Energy and Mineral Resources' renewable energy department, Ahmad Abu Saa, a new project will commence this year that will install PV (photovoltaic) solar systems on every one of Jordan's mosques. He told the Jordan Times that while the aim is to cover all 6,000 mosques, it will begin with 120.
Mosques in the country cost Jordan around $70 million every year, Abu Saa said. This cost comes from the construction of new mosques, maintain existing ones, covering electricity and water bills, and paying the salaries of preachers and imams.
Abu Saa explained that "Mosques use large amounts of electricity and the project will help to significantly reduce their electricity bills as around 300 days in the year are sunny."
In addition to helping to cover some of the costs, the surplus power the Mosques collect from solar energy will be sold back to Jordan's main energy grid.