Hyundai hydrogen fuel vehicles arrive in the United Kingdom
October 27, 2014
Hyundai has successfully delivered its first fuel cell vehicles to the United Kingdom
South Korean automaker Hyundai has successfully delivered the first of its hydrogen-powered vehicles to the United Kingdom. The company has been promoting fuel cell vehicles for some years now, highlighting the environmental friendliness of these vehicles as well as their efficiency when compared to their more conventional counterparts. In the UK, there has been a push to promote the adoption of electric vehicles among consumers. Hyundai, as well as other automakers, see a great deal of opportunity in the country.
Auto industry continues to show concern regarding the viability of fuel cells
The auto industry has become somewhat divided on the viability of fuel cell vehicles. Many believe that hydrogen fuel may be the best option for the future of clean transportation, while others believe that fuel cells will detract from the attractiveness of conventional electric vehicles. Most automakers have concerns regarding the lack of a working hydrogen fuel infrastructure in most of the world. In the United Kingdom, there are a very small number of hydrogen stations currently open to the public.
Hyundai believes that the market is ready for fuel cell vehicles despite lack of infrastructure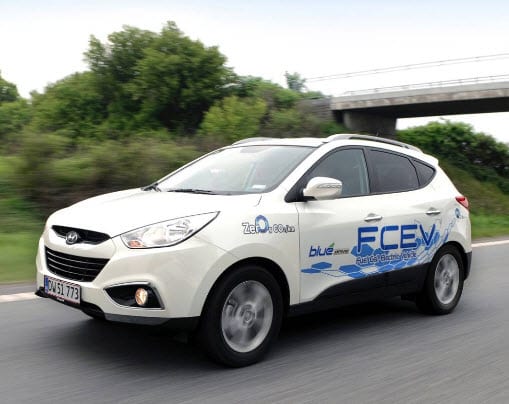 Despite the infrastructure issue, Hyundai believes that the commercial market is ready for fuel cell vehicles. The company's ix35, which is powered entirely by hydrogen, has been delivered to several organizations that will be using these vehicles on a regular basis. ITM Power, Air Products, and Transport London are three of the organizations that have received the vehicle from Hyundai.
UK government is investing heavily in the clean transportation sector, using money to build new infrastructure and offset the cost of fuel cell vehicles
The UK government recently unveiled an ambitious plan to fund the support of hydrogen fuel and clean transportation. The government is funneling more than $11 billion into the transportation sector through a variety of initiatives. Some of these initiatives will help offset the cost of fuel cell vehicles, while others will focus on spending money to build new hydrogen fuel stations and bolster the country's fuel infrastructure.