Hyundai to unveil new fuel cell system at 2018 Winter Olympics
July 27, 2016
Automaker has developed a new fuel cell system that will be used in an innovative vehicle
South Korean automaker Hyundai has revealed that it will be launching its next generation fuel cell system in 2018. This new fuel cell system will be used to power a new vehicle, which will be ready to showcase in time for the Winter Olympic, which is being held in South Korea. According to Hyundai, the system will be used in an entirely new vehicle, which will appear to be a hybrid sports utility vehicle and crossover utility vehicle.
Hyundai has been working to improve fuel cell technology for years
Hyundai first entered into the realm of fuel cell transportation in 2013, when it introduced the ix35. Since then, the automaker has produced less than 1,000 units of this model, but has been aggressively promoting the capabilities of hydrogen fuel cells and how they can be used in transportation. Hyundai has been slow to develop vehicles equipped with a fuel cell system, but has been working to improve the technology behind such systems, making them more efficient and less expensive.
New system will be lighter and less expensive than its predecessor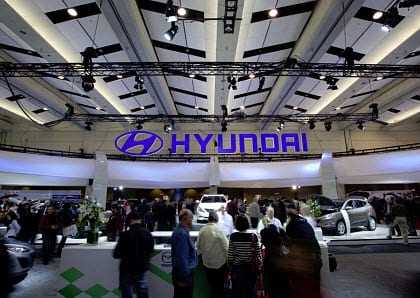 The new fuel cell system developed by Hyundai will be smaller than its predecessor. The system will also require less platinum, which will make it considerably more affordable than its earlier counterpart. The system will be accompanied by a battery, which will be larger and capable of storing more electrical power. The vehicle itself will have a smaller and lighter electric motor, though this motor will also have higher performance.
Winter Olympics to be a major event for clean transportation
The fuel cell system is set to be on display during the 2018 Winter Olympics, which will be held in Pyeongchang, South Korea. Hyundai plans to make this a big event for clean transportation and fuel cell technology. The automaker has already generated a great deal of buzz around its fuel cell vehicle and technology over the past three years and has even invested in helping establish a hydrogen infrastructure in South Korea and other markets.