A solar rental system may solve Nigeria's energy woes
June 24, 2016
New payment structure for solar energy could accelerate the adoption of clean power in Nigeria
Renewable energy in Nigeria could benefit from a pay-as-you-go structure. Nigeria, one of Africa's largest economies, is home to a notoriously unreliable energy grid. Approximately only 18% of working grid connection are reliable. The demand for electricity has been growing throughout the country, but many people are being forced to generate their own energy. This means that many people have had to rely on expensive gasoline generators, but solar energy systems can resolve this issue.
Nigeria has been slow to embrace sustainable energy
Clean power has managed to establish a strong foothold in many parts of Africa, Nigeria has been slow to embrace renewable energy. One of the major barriers preventing Nigeria from becoming a clean energy market is the idea that solar energy simply "does not work." Another issue is the relatively high cost of solar energy systems. High costs have made these energy systems less attractive to consumers than the gasoline generators that they have become comfortable with. In order to reduce these costs, a pay-as-you-go system may be needed.
Arnergy is leading the way in making solar energy more accessible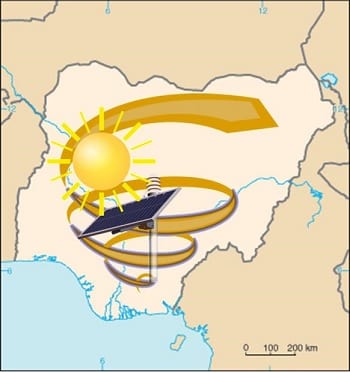 Such a system would allow consumers to simply pay for the energy that they use, rather than spending a fixed amount. Such a payment model has been launched by Arnergy, a solar developer. The company allows consumers to lease solar equipment and make use of what it calls a "solar rental system." For approximately $30 a month, consumers can have their own solar power systems. Apart from the lease, consumers will only pay for the electricity they actual use. The approach is novel and may ensure that solar power gains more momentum in Nigeria.
Consumers pay less than $10 a month for the energy they need
A solar rental system is a relatively new concept. While other companies have their own leasing programs for solar technologies, they do not offer pay-as-you-go payment structures. According to Arnergy, most consumers using a solar rental system are paying less than $10 a month for electricity. This provides them with enough energy to power LED light bulbs, a television, and a fan. This is also enough energy to charge mobile devices on a daily basis.