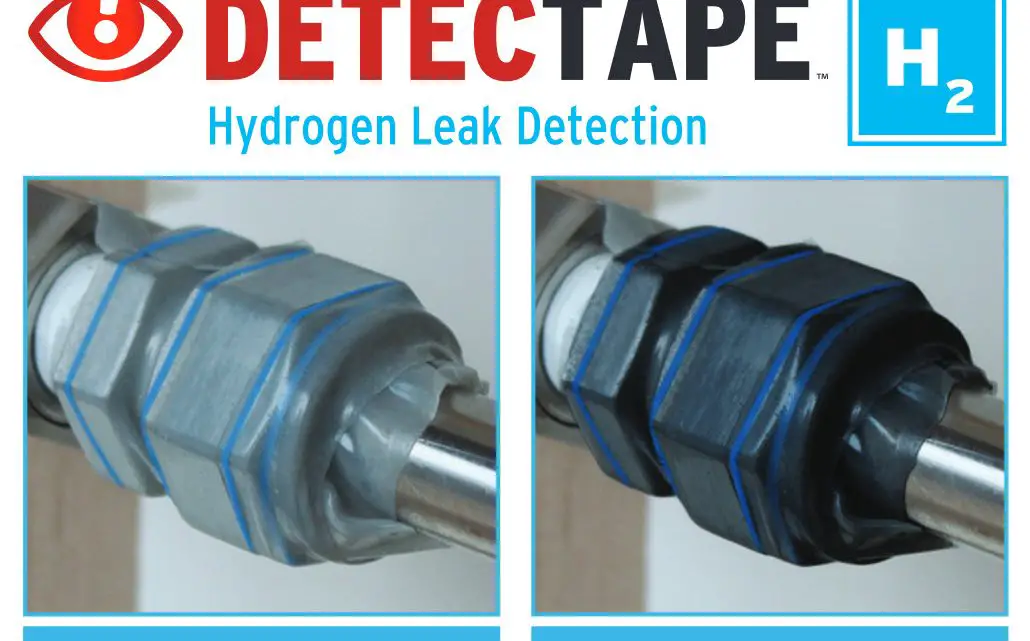 DetecTape Identifies New Leaks in the Hydrogen Industry
January 11, 2016
DetecTape™, a new low cost visual leak detection tape in the hydrogen industry, is now available.
Midsun Specialty Products, Inc. (MSP), a leading manufacturer and distributor of specialty silicone tapes in Berlin, Connecticut announced a partnership today with Boulder, Colorado based Element One, Inc. to bring a new visual leak detection technology to industries and companies that use hydrogen.  The technology is designed for use by inspection and maintenance teams with the intent of expediting the leak identification process in hydrogen fuel cell, generation, storage, and transmission facilities. It is one of the first reliable, low-cost, and easily deployable leak detectors to hit the market.
DetecTape™ employs a patent pending color changing pigment that is dispersed into a UV protected gas permeable silicone membrane. Within minutes of a hydrogen gas leak, the highly sensitive pigment reacts with the hydrogen and changes color from light gray to black, allowing inspectors to visually identify leaks from a distance and initiate repair protocols. DetecTape™ is meant to be used in conjunction with other leak detection tools, such as sniffers and electronic sensors, and provide a localized visual signal to quickly find leaks.
The technology is available in tape roll form with perforated strips designed to accommodate many common diameter hydrogen transmission lines. DetecTape™ utilizes a self-fusing technology that contains no glues, but chemically bonds to itself on contact to prevent extreme condition related adhesive failure. The tape can be wrapped around valves, flanges, joints, welded seams and other miscellaneous connections. Installation is performed by wrapping the tape around the pipe fixture so that it overlaps and seals to itself.
DetecTape™ is for use in facilities that create, store, and deliver hydrogen including fuel cell plants, refineries, generation plants, electric utilities, research laboratories, and fueling stations. During a recent visit to the MSP facility, Dr. Sunita Satyapal, Director of Fuel Cell Technologies at the U.S. Department of Energy, emphasized the importance of new technologies like these that improve facility safety and strengthen the reliability of our nation's growing hydrogen infrastructure. DetecTape™ is currently undergoing field trials in select hydrogen industry facilities and is under continual testing at the Department of Energy's National Renewable Energy Laboratory (NREL). Test data and reports are available upon request.
For more information on field trial participation, procurement, and test reports, please visit www.DetecTape.com, contact Midsun Specialty Products by phone at (888) 866-8273 or email [email protected].  To stay updated on important developments during the launch, please join the DetecTape™ mailing list on the product website.
ABOUT ELEMENT ONE
Element One, Inc. based in Boulder, Colorado, was formed to develop and market new low-cost hydrogen indicators that use chemochromic (color change) materials, thin films, and newly developed fabrication techniques as the basis for a wide array of low-cost, wide area hydrogen indicators. More information about Element One, Inc. is available at www.elem1.com
ABOUT MSP
MSP, Inc. has been a provider of silicone and specialty products to industries across the globe since 2000.  Originating in electrical utility industry solutions, MSP has quickly become a leader in retail and industrial markets by delivering the latest silicone technologies and niche industry products to markets in need of alternative solutions while keeping customer service and quality a constant priority. MSP, Inc. is privately held and headquartered in Berlin, Connecticut.
More information about MSP, Inc. is available at www.midsunsp.com
U.S. DOE Visit to Midsun Specialty Products, Inc. photo – From left to right – Michael Ossowski, MSP VP of Sales Operations. John Poplawski, MSP Executive VP. Robert Vojtila, MSP Co-Owner. Dr. Sunita Satyapal, U.S. Department of Energy Director of Fuel Cell Technologies. Nancy Garland, U.S. Department of Energy Manufacturing Project Manager. Terese Escoto, Senior Director of Inside Sales. Mark Hatje, MSP Co-Owner. Yomar Colon, MSP Plant Manager.
Photo taken by Scott Lusignan (MSP Director of Marketing).