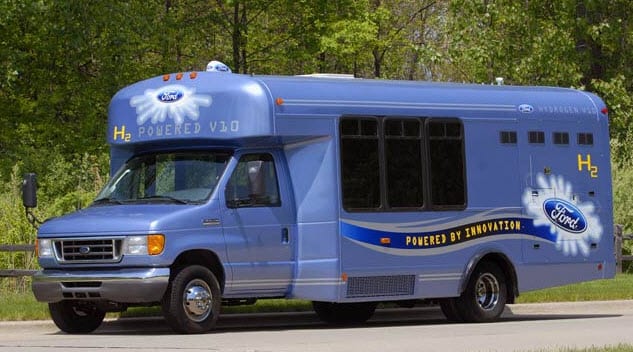 Ford H2 shuttle buses are a big hit!
March 4, 2011
Columbia, South Carolina, is the latest to join a growing number of cities spanning the world that are using hydrogen fuel cells to power their public transit systems.
On Wednesday, the city showed off its new H2 shuttle bus that will operate throughout the city on several routes over the next year. Officials are showing their support of clean energies and say that incorporating alternative fuel technologies will help the Midlands move toward an energy efficient future.
The new Ford Hydrogen V-10 E-450 was on display at City Hall on Wednesday as Mayor Steve Benjamin fielded questions and worked with representatives from partnering organizations to explain the significance of fuel cell technologies.
The bus is part of a 12-month program that is an important step for the city's goal of transitioning all of its public transit vehicles to hydrogen fuel by 2015.
The organizations that are part of the partnership are Ford, the University of South Carolina, the city of Columbia and the Department of Energy. According to the deal, ford will have ownership of the bus; the university will provide trained operators and insurance. The city will take care of establishing the infrastructure necessary to supporting the endeavor with the Department of Energy providing appropriate funding.
This program is considered a step in the right direction for advancing the use of hydrogen fuel. Infrastructure is still a major concern, but as more cities begin to utilization fuel cell technology, the more refueling stations will begin to sprout up in support of the industry.