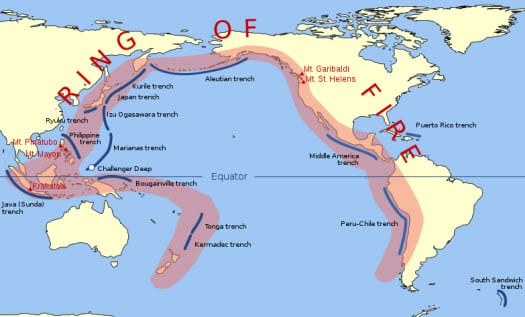 Geothermal energy may be the future of Japan and other nations in the Ring of Fire
October 12, 2011
Japan has been facing some daunting challenges when it comes to energy.
Earlier this year, a powerful earthquake all but crippled the nation's energy infrastructure. In the wake of the quake, Japan's energy needs were satisfied – convincingly so – by hydrogen fuel. The nation has a long history with hydrogen that has proven fruitful, but Japan is also home to another form of energy that rarely catches headlines. Geothermal energy, as it is known, may be the future of Japan's, and many other nations occupying the infamous "Ring of Fire," energy system.
The Ring of Fire denotes the ring-like circumference of the Pacific Tectonic Plate, which is home to the most active geology on the planet. Japan, as well as New Zealand, South America and parts of the U.S., are situated in this geologically active zone, which means they are prey to violent geologic activity but they also have access to a large amount of geothermal energy.
In Japan, geothermal gas is used to heat homes.
The gas itself can be incredibly hot, allowing it to be used to provide instant heat to households that use it. Given the recent nuclear crisis, the nation may be putting more efforts into developing uses for geothermal energy. As Japanese citizens begin to protest the prospect of returning to nuclear energy, geothermal, coupled with hydrogen, may be the answer the nation is looking for when it comes to alternative energy.