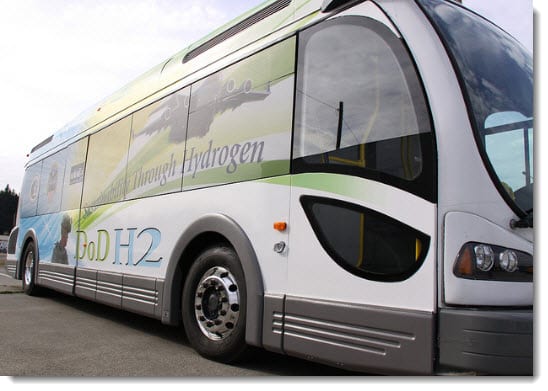 Joint Base Lewis-McChord received hydrogen-powered bus
May 1, 2012
Hydrogen Fuel Cell Initiative brings new bus to JBLM
The U.S. Army's Joint Base Lewis-McChord (JBLM) welcomed the latest addition to its transportation system that serves personnel last week. A new, hydrogen-powered bus has arrived at the base and will help meet the travel needs of those that work and live in and around JBLM. The bus is part of the Department of Defense's Hydrogen Fuel Cell Initiative, which aims to promote the use of fuel cells throughout the various branches of the military. The agency has taken an aggressive stance in supporting hydrogen fuel, believing that it to be one of the best options for the country's energy future.
Hydrogen-powered bus to begin service this week
The bus is scheduled to begin service this week as part of the JBLM Duty Shuttle system. The system covers a large area around the military base and helps those that work and live in the area reach their destinations in a timely fashion. The route that the bus will take was determined by the Directorate of Logistics based on where Army and Air Force personnel frequently traveled. The primary purpose of the hydrogen-powered bus is to provide reliable transportation for personnel throughout the duty day.
More hydrogen-powered buses may be coming
The bus is expected to be the first of many that will come to JBLM. These buses will likely have a significant impact on energy costs and help JBLM meet emissions standards. This has become one of the major appeals to hydrogen energy systems for both the military and private sector. Outside of the military, businesses and consumers have begun adopting fuel cells at a rapid pace.
Department of Defense continues to support hydrogen fuel
The Department of Defense has been a staunch advocate of hydrogen fuel cells. The agency believes that energy has become a matter of national security due to increasing tensions with the Middle East and other providers of fossil-fuels. Hydrogen fuel cells have been targeted as a way to help the country break its reliance on oil and other fossil-fuels and establish its energy independence. This would help the country meet its own emissions standards as well as spell out significant savings in terms of energy costs.