Mercedes-Benz expected to unveil new hydrogen fuel cell car in 2017
December 2, 2015
Automaker is expected to showcase new fuel cell vehicle at Frankfurt Motor Show in 2017
Mercedes-Benz is expected to reveal its new hydrogen fuel vehicle at the 2017 Frankfurt Motor Show. The company has been promoting the viability of fuel cell vehicles for some time, noting that hydrogen fuel cells are able to make vehicles more environmentally friendly and efficient. Several automakers have been developing new fuel cell technology in order to make vehicles more powerful and efficient. Mercedes is among these companies that has managed to do this, showing that fuel cells can be valuable tools for the transportation space.
Company already has experience with hydrogen fuel cells
Mercedes has plans to release its first fuel cell vehicle at some point in 2018. The vehicle will be based on the automaker's 2016 GLC model. Mercedes already has experience with fuel cell vehicles, having demonstrated the power of these vehicles with its F-Cell prototype. Mercedes took the prototype around the world in an effort to highlight the efficiency of hydrogen fuel cells, an experiment that was largely successful.
Auto industry is becoming more involved in the clean transportation space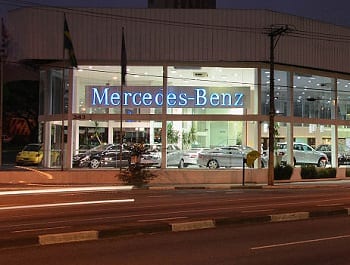 While automakers are showing strong support for fuel cell vehicles, they also must overcome challenges in order to ensure that these vehicles are successful. One of these challenges is the cost of fuel cell technology. These energy systems make use of a significant amount of platinum, which is quite costly. This cost translates into the overall price of fuel cell vehicles, and their expensive nature may dissuade consumers from purchasing these vehicles. Another challenge that automakers must overcome is the lack of a hydrogen fuel infrastructure.
Governments are curbing emissions by supporting clean vehicles
Clean transportation is becoming more important throughout the world. As governments begin to look for ways to reduce the amount of harmful emissions produced, they are beginning to focus on supporting clean vehicles. Fuel cell vehicles produce no harmful emissions, running on electrical power, which fuel cells produce through the consumption of hydrogen fuel.