New partnership aims to expand solar energy in Thailand
December 30, 2014
0
By
Bret Williams
Yingli Singapore forms partnership with other companies to promote solar power in Thailand
Yingli Green Energy Holding, the world's largest producer of photovoltaic modules, has announced that its subsidiary, Yingli Singapore, has entered into a partnership with numerous solar energy companies, including Huawei. Through this partnetship, the companies will work to expand solar energy in Thailand, which has become a more attractive energy market in recent years. The companies aim to build new solar projects and provide distributed energy solutions to existing projects throughout the country.
Yingli Singapore will aid existing projects and help new projects take form
Yingli Singapore believes that this new collaboration will accelerate the development of solar power in Thailand. New projects will allow the country to further distance itself from fossil-fuels and embrace clean energy more effectively. The partnership could help make it easier for consumers and businesses alike to embrace solar power as well.
Yingli already holds a strong position in the emerging solar power market of Thailand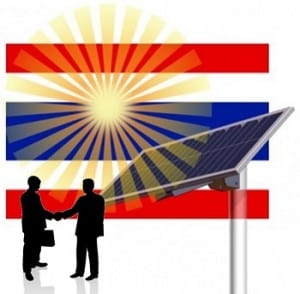 The country's solar market has been showing healthy signs of growth for some time. As the demand for solar power has risen, new projects have begun to take form throughout the country, creating ideal market conditions for companies like Yingli. Yingli Singapore already has a significant presence in the Thai market, as it had formed a partnership with the Electricity Generating Authority of Thailand earlier this year. Yingli is currently building a 5 megawatt solar facility in the country, with the aid of four other organizations that are also a part of this partnership.
Thailand aims to have 3 GW of solar capacity installed by 2021
Thailand's government aims to have 3 gigawatts of solar capacity installed and operational by 2021. The country also plans to derive no less than 20% of its total electrical power from renewable sources by 2022. There are already various policies in place that will provide financial support to the renewable energy sector, allowing new projects to take form in Thailand. These policies have helped make the country one of the fastest growing solar energy markets in the Asia-Pacific region.
About The Author
Bret Williams is a writer and researcher with a passion for trains and renewable energy technology. With over 20 years of experience, he is a recognized expert in the field of sustainable energy, including waste to energy and hydrogen storage solutions. Growing up, Bret's love for trains sparked an interest in energy and transportation systems. This passion led him to explore the world of renewable energy, where he discovered his true calling. As a writer, Brett uses his knowledge and expertise to provide insightful articles and whitepapers on cutting-edge topics related to sustainable energy. Bret is a passionate advocate for the environment and believes that renewable energy is crucial to preserving our planet for future generations. He strives to promote the latest sustainable energy initiatives, new technologies, and emerging trends in the sector through his writing.