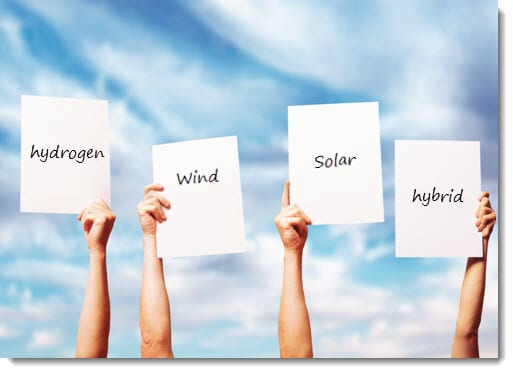 Study shows U.S. could meet its energy needs through alternative energy technology
July 4, 2012

NREL report suggests country could meet 80% of its energy need through today's alternative energy projects
A recent study from the National Renewable Energy Laboratory (NREL) suggests that the U.S. can meet 80% of its energy needs through the alternative energy projects that are currently available. For decades, alternative energy had been held back due to concerns regarding the ultimate feasibility of energy systems that are designed to replace the use of fossil-fuels. Alternative energy technology is often considered lacking in its ability to supplant fossil-fuels, but the NREL study shows that this is not the case.
Electric infrastructure needs more flexibility for the feat to be possible
According to the study, the alternative energy technology of today is more than adequate to supply 80% of the country's total electricity demand in 2050. Such a feat cannot be accomplished through the brute force of alternative energy technology alone. The study notes that a more flexible electricity system will enable the country to reach this level of sustainability in the future. An updated electrical infrastructure is required in order to meet the demand imposed by large-scale alternative energy systems. The study notes that there are a variety of options currently available that could be used to revolutionize the country's energy grid.
Alternative energy diversity cited as a major boon for the country
The abundant diversity of alternative energy resources in the U.S. are also cited as a major contributor to the country's sustainability endeavors. The U.S. is home to a large number of alternative energy projects, including solar, wind, and hydrogen power as well as energy systems that produce electricity through the conversion of organic waste. NREL researchers suggest that this diversity will help the country break away from fossil-fuels effectively.
Politics could make or break country's alternative energy endeavors
Though the NREL study shows that the U.S. can make effective use of its existing alternative energy resources, technology is not the only issue. Political division has caused some delays in progress in the country's alternative energy sector. Politics are expected to play a large role in the development of the country's alternative energy systems as well as whether it will break away from fossil-fuels in the future.
Related article(s) and resources:
http://cleantechnica.com/2012/07/02/80-clean-renewable-energy-potential-2050-us/?utm_source=feedburner&utm_medium=feed&utm_campaign=Feed%3A+IM-cleantechnica+%28CleanTechnica%29