Texas reaches new milestone in wind energy
April 2, 2014
New wind power record set in Texas on March 27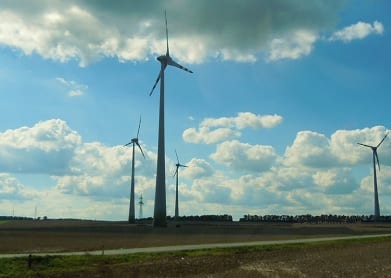 Texas has reached a major milestone in wind energy. The Electric Reliability Council of Texas has announced that on March 26, some 30% of the state's energy demands were met through the wind farms operating in the state. Texas is home to one of the fastest growing wind markets in the country and the state government has been supporting the adoption of wind power for some time. Texas is expected to become a leader in the wind sector in the coming years as the demand for wind energy increases.
Wind farms accounted for nearly 30% of states energy demand on March 27
According to the Electric Reliability Council of Texas, some 10,296 megawatts of wind power was generated on March 26. Approximately 36,000 megawatts were recorded on the energy grid that day. State officials note that there were no issues concerning the integration of the electrical power produced by the state's wind farms at that time. The American Wind Energy Association notes that more wind power was generated by Texan wind farms than any other wind power system in the country, setting a new national record.
Majority of wind capacity comes from Competitive Renewable Energy Zones in West Texas
The majority of the wind power provided to the state's energy grid came from wind farms established in West Texas. Farms situated along the Gulf Coast provided an estimated 1,400 megawatts of electrical power. West Texas is home to a Competitive Renewable Energy Zone, which is land specifically set aside for the development of clean energy systems. Approximately 18,000 megawatts of wind energy projects are in active development phases in that area.
New wind farms expected to go online in coming months
Texas is currently home to more wind power capacity than any other state in the country. Approximately 11,000 megawatts of wind power is being actively fed into the state's energy grid, with another 8,000 megawatts of capacity currently under development. New wind farms are expected to begin producing electrical power for the state in the coming year. Many of these wind farms are receiving financial support from the lingering provisions of the Production Tax Credit, which expired at the beginning of the year.