Aspen is now entirely powered by renewable energy
September 21, 2015
Aspen has become third U.S. city to achieve 100% renewable power.
The well-known small American city, located in the beautiful Rocky Mountain's of Colorado, famed for its skiing, has recently gained attention for its notable achievement in obtaining all its power from renewable energy sources. It is the third city in the United States to fully rely on renewables, following in the footsteps of the 100% renewable powered American cities, Burlington, Vermont, and Greensburg, Kansas.
Aspen obtains its power from a variety of renewable sources.
The city's renewable power supply comes from several clean energy sources, including wind, solar, hydro, geothermal heat, and landfill gas. However, Aspen primarily receives the majority of its renewable energy from wind and hydroelectric.
The city is "powered by the forces of nature, predominantly water and wind with a touch of solar and landfill gas," Aspen's utilities and environmental initiative director, David Hornbacher, told The Aspen Times.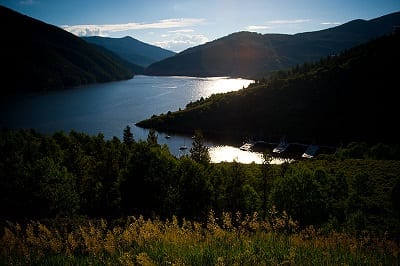 The city obtains its wind energy from four wind farms in South Dakota and Nebraska, and also uses energy from Ruedi Reservoir, Maroon Creek, and Ridgway Reservoir, a hydropower facility located near Montrose.
An extraordinary drop in price in renewable energy made it possible for Aspen to make the switch to 100% renewables.
According to an article from Think Progress, the city's announcement came after its decade-long efforts to make the switch to renewables. However, what made the shift to achieve 100% green power possible was the incredible decline in the cost of renewable power. In recent years, the cost of solar plummeted and is expected to drop even more in the future. Wind energy is also substantially cheaper now compared to its price only ten years ago.
Another bonus for Aspen was the new regulations implemented by the Obama administration, which helped to make fossil fuel power sources, like coal, less competitive. More than one third of coal plants in the United States have been closed in the past six years, and new carbon regulations could mean that no new coal plants will be built in the country.
Even though Aspen isn't exactly the biggest city, with an estimated 6,600 people, it's goal of achieving 100% renewable energy is still impressive. As Hornbacher said to The Aspen Times, "It was a very forward-thinking goal and truly remarkable achievement." and that "We've demonstrated that it is possible."