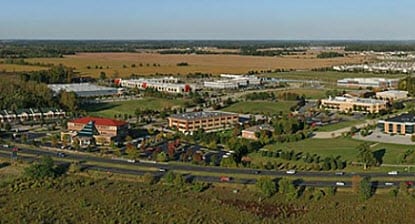 Genport SRL to build headquarters at Purdue Research Park in Indiana
April 6, 2012
Genport SRL, an Italian manufacturer of electric generators and lithium-ion batteries, has announced that it will be seeking to establish a headquarters in North America. The company is spending $2 million to build this headquarters at the Purdue Research Park in West Lafayette, Indiana. The facility will not be devoted to serve the company's establish pedigree. Instead, Genport researchers will be experimenting with new hybrid fuel cell technologies that could have serious implications for alternative energy in the U.S.
In terms of alternative energy, fuel cells are serious business.
These energy systems represent the pinnacle for clean and efficient energy, though this perceptions in highly idealized. Current fuel cells are notorious for their costly manufacture and inefficiency. As such, the energy systems have been the subject of research for decades, partly due to the fact that they could be best sustainable energy option available. Typical fuel cells use hydrogen to generate electricity. This hydrogen is produced by feeding an electric current through water contained within the fuel cell. This electricity often comes from power plants that burn fossil-fuels, making fuel cells less environmentally friendly than they appear on the surface.
Researchers from companies like Genport believe that hybridizing fuel cells is the answer to this problem.
Hybrid fuel cells exist today, many of which combine solar energy with hydrogen fuel. These fuel cells have proven to generate a large amount of electricity without needing to draw upon power from a country's energy grid. There are also no harmful emissions associated with such systems, making them entirely environmentally sound and self-sustaining.
Genport will be partnering with the U.S. Department of Defense and the Naval Surface Warfare Center after establishing its new headquarters.
The company will assist in the research and development of fuel cells for use in military operations. The Department of Defense has become interested in alternative energy, showing particular favor for hydrogen. The agency has been aggressively developing hydrogen energy systems that it has been using around the U.S. as well as in other countries. Genport researchers will work on new ways to make hydrogen fuel more viable for use by the agency as well as for other purposes.