Global wind energy capacity to reach 2,000 GW by 2030
October 24, 2014
New data shows that global wind power capacity is slated for strong growth in the coming years
The Global Wind Energy Council and Greenpeace International have released new information concerning the world's wind energy capacity. According to the two organizations, global wind capacity could reach 2,000 gigawatts by 2030, accounting for approximately 19% of the world's energy make up. By 2050, wind power could provide as much as 30% of the world's electricity. Global capacity is expected to increase dramatically as large-scale projects reach completion and begin producing electrical power.
Large-scale projects reaching completion in the coming years will boost capacity significantly
According to the Global Wind Energy Council, wind power has become one of the most affordable forms of energy in the world. Various projects have helped showcase the viability of wind power when compared to numerous other forms of energy. The costs associated with wind power continue to fall and this form of energy is quickly becoming a favorite among countries that want to cut down on their emissions without having to make any sacrifices to energy production.
Capacity is growing slowly, but several large-scale projects will help solve this problem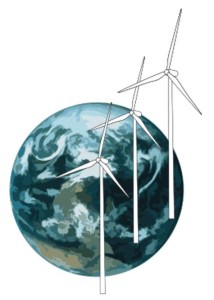 At the end of 2013, global wind energy installations accounted for 318 gigawatts of capacity. Another 45 gigawatts of capacity is expected to become active throughout the world by the end of this year. Onshore projects are expected to make up the bulk of the world's new wind power capacity, but offshore projects are also becoming more common. Many offshore projects have greater energy potential than their onshore counterparts, but are also more expensive to develop.
Many countries see economic promise in wind energy projects
Many countries are showing strong support for wind energy because of the economic potential it has. New projects call for skilled labor, creating numerous temporary jobs. These projects also create permanent positions that are often high paying. Countries using clean energy often see a slump in their energy expenditures because their reliance on fossil-fuels drops by a significant degree. These projects currently rely heavily on financial support provided by governments.