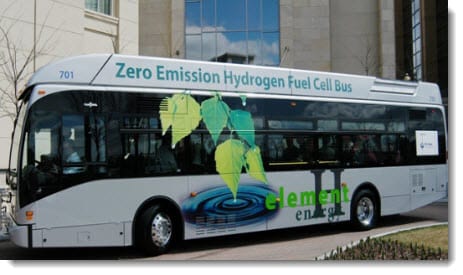 Hydrogen-powered buses highlighted in new EU report
December 16, 2012

Fuel Cell and Hydrogen Joint Undertaking report investigates hydrogen-powered buses
Hydrogen fuel is gaining traction in Europe, especially where public transportation is concerned. The growth of hydrogen fuel cells is largely due to the support the European Union has been showing this form of alternative energy. Emissions standards from participant countries in the EU, as well as the governing body's own regulations, are calling for cleaner forms of transportation, and hydrogen fuel cells may be the best answer. The European Commission's Fuel Cell and Hydrogen Joint Undertaking has released a new study concerning alternative powertrains for some of Europe's most popular public transit vehicles: Hydrogen-powered buses.
Report finds that buses could be a viable way to reduce carbon emissions
The study is part of an ongoing project that is concerned with the performance of hydrogen-powered buses in European cities. The project aims to examine the feasibility of "decarbonizing" public transportation throughout Europe by 95% by 2050. Making public transportation more environmentally friendly is part of an ongoing effort to reduce carbon emissions throughout Europe in general. The study from the Fuel Cell and Hydrogen Joint Undertaking focuses on the performance of hydrogen-powered buses throughout Europe, which account for some 65% of Europe's public transit network.
Hydrogen-powered buses boast of strong performance and longevity
The report shows that hydrogen-powered buses perform roughly similar to conventional vehicles that run on petroleum. The study also suggests that fuel cells allow these vehicles more flexibility in terms of longevity and times of operation. Fuel cells can keep buses running much longer than traditional engines, thus allowing them to operate for longer periods of time before needing to be refueled. The cost of hydrogen fuel is also significantly lower than the cost of petroleum, thus making hydrogen a suitable alternative from an economic standpoint.
Cooperation is key to the mass adoption of hydrogen-powered buses in Europe
The study notes that mass production of fuel cells for public transportation vehicles is required to achieve suitable economic benefits. Coordination between European countries is cited as an ideal way to commercialize hydrogen-powered buses and help these vehicles reach mass production. The Fuel Cell and Hydrogen Joint Undertaking expects that cooperation will also help expand the currently sparse hydrogen fuel infrastructure seen throughout the European Union.