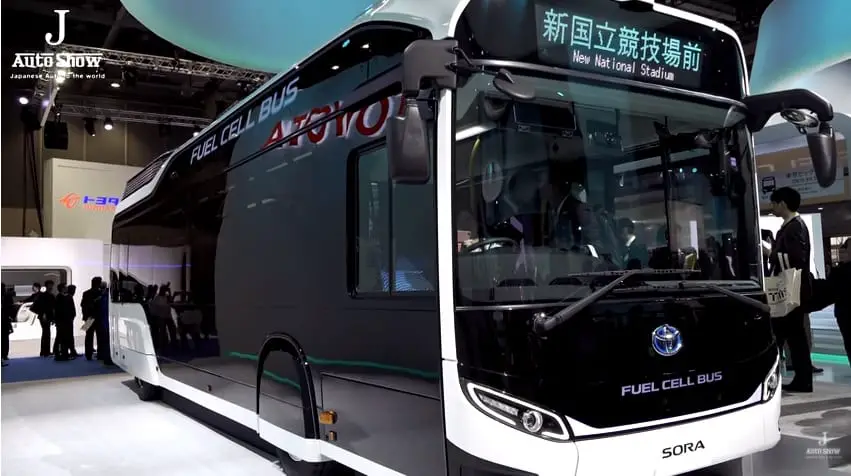 Toyota brings buses equipped with fuel cells to Japan
April 13, 2018
Automaker has begun selling its new hydrogen-powered bus
Toyota has begun selling its new hydrogen-powered bus, called the Sora, in Japan. The bus is the first of its kind to receive vehicle-type certification in the country. Toyota previously revealed its plans to have no less than 100 new fuel cell buses on the roads of Tokyo by the time of the 2020 Olympic Games, which will be hosted by the city. The bus will serve alongside other fuel cell vehicles that will be used to transports athletes and attendees during the Olympics.
New bus is designed to be more convenient and safe
The Sora makes use of similar technology that is used to power Toyota's Mirai, which is also powered by hydrogen. The technology has been scaled-up to accommodate the greater needs of the bus, of course. The bus is designed to be as comfortable for passengers as possible, with its seats automatically being stored to better accommodate those in wheelchairs and those with strollers. The bus is also equipped with a variety of high-definition cameras that allow it to better detect pedestrians and bicyclists, which will also warn the driver of their presence and improve overall safety.

Toyota continues to show strong support for fuel cells
Toyota has become a major force in the clean transportation space. The automaker is one of the very few that have brought fuel cell technology into the transportation market. Toyota believes that these energy systems can help ensure that all future vehicles produce no harmful emissions. The Japanese government shares this belief and has been investing in the development of new facilities that can produce and fuel vehicles equipped with fuel cells.
Japan aims to showcase the capabilities of fuel cells during the Olympic Games
A variety of fuel cell vehicles and fuel cell systems will be on display during the 2020 Olympic Games. The Japanese government is using the event to highlight how these vehicles and energy systems can be used to establish a hydrogen society. As such, fuel cells will be one of the primary energy providers during the Olympics.