UK-India trade deal to support solar energy and hydrogen fuel
November 16, 2015
Trade deal will provide funding for the development of India's solar infrastructure
A new trade deal between the United Kingdom and India will bring in more funding for clean energy technology and projects. The trade deal, which is standing at more than $10 billion, will see more than $2 billion funneled into the development of India's solar energy infrastructure over the next five years. The trade deal will also provide funding for hydrogen fuel projects, namely the development of new fuel cells and the establishment of a working hydrogen fuel infrastructure.
New opportunities will emerge as solar energy continues to grow
According to Lightsource Renewable Energy, which will be developing the solar infrastructure in India, believes that wind projects will help create more than 300 jobs and generate some $42 million in revenue in the United Kingdom alone. Similar economic benefits are expected to be seen in India, where solar energy is beginning to become a primary focus for the country's government. The Solar Trade Association notes that the trade deal represents the growing opportunities that companies are beginning to see in the international solar energy market.
India is establishing itself as a leading solar energy market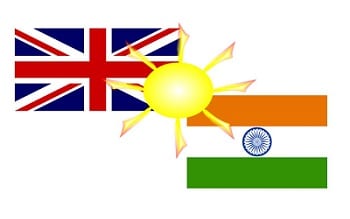 India has become one of the strongest supporters of solar energy in the world and it has become a significant focus for companies in the UK that specialize in solar power. The global solar market is valued at more than $100 billion and is growing very quickly. Thus far, many UK companies have been somewhat slow in bringing projects to other countries, and they have lost some promising opportunities as a result of this. The new trade deal may help resolve this issue, to some degree, allowing companies more access to the opportunities that they need.
Countries are beginning to band together to fight climate change
As international co-operation on renewable energy begins to increase, more trade deals are expected to be formed among several countries. These countries are beginning to work together to combat climate change, hoping to move away from traditional fossil-fuels in order to reduce the amount of emissions that are released into the atmosphere every year. Renewable energy, particularly solar, will play a major role in this initiative.