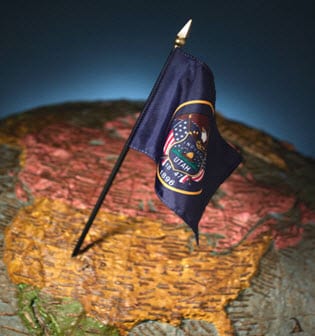 Utah to be home to expansive natural gas project
May 11, 2012
Natural gas project receives approval from the U.S. government
The U.S. Secretary of the Interior, Ken Salazar, has approved a major natural gas project that will take root in Utah's Uinta Basin. The project aims to develop more than 3,600 natural gas wells over the next ten years. Given the scope of the project, it is expected to bring thousands of sustainable jobs to the state as well as many more temporary ones. It has also caused some controversy in Utah, where environmentalists claim that it will cause significant damage to the environment and could have negative effects for the climate at large.
Uintah County to provide 163,000 acres of land for gas production initiative
The project will encompass 163,000 acres of land in Uintah County, Utah, which is already home to a significant number of gas production initiatives. The project aims to disturb only 5% — approximately 8,100 acres – of the surface area of the land it will be using. The project is expected to not only boost the state's energy economy but also the country's. Natural gas is not without its opponents, however, many of whom are protesting the country's increasing interest in the energy.
Natural gas not as clean as some may think
Natural gas is often considered a viable alternative to oil, but the fuel is still a pollutant. Burning natural gas for energy produces greenhouse emissions, which are harmful to the environment. Though natural gas burns cleaner than oil and other fossil-fuels, the fact that it still produces carbon emissions has often been a point of contention for alternative energy advocates.
Fuel could be used for fuel cells as well as other alternative energy systems
Despite the reservations some may have regarding natural gas, it is gaining popularity in the U.S. at a rapid pace. Part of this popularity is associated to its used with hydrogen fuel cells. These energy systems are beginning to attract more of the country's attention because of their use by the auto industry and their proficiency in the industrial world. The natural gas produced by the Utah project will be used for a variety of purposes, including providing fuel for the hydrogen fuel cell industry in the country.