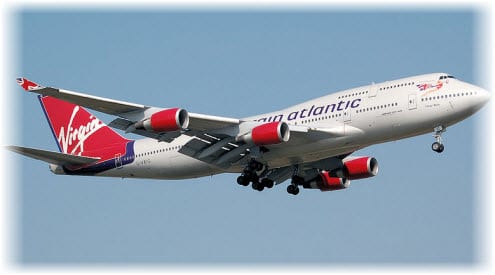 Virgin Atlantic to be powered by waste gas by 2014
October 31, 2011
Sustainability is often a topic of interest for Richard Branson, owner and chairman of the Virgin group, a vast multinational conglomerate comprised of more than 400 companies.
Branson is quite outspoken – at times, infamously so – on the issue and the importance of transitioning away from fossil-fuels. While it is rare for owners of multi-billion dollar corporations to take steps toward sustainability, Branson's convictions have led to an energy revolution within his Virgin Atlantic Airways company.
The acclaimed airline has announced that it will be flying commercial routes using nothing else but fuel generated by waste by 2014. The company will be partnering with LanzaTech and Swedish Biofuels, alternative energy companies that have developed a way to capture waste gas produced from industrial steel production and convert it into usable hydrogen.
The project will take Virgin Atlantic beyond its carbon reduction goal of 30% by 2020. Virgin Atlantic will be the first company to use this type of fuel.
Air travel is often criticized as one of the most environmentally harmful forms of transportation. Airlines have attempted to mitigate the carbon emissions from aircraft through various means, but alternative energy is the only viable solution. The transportation industry, as a whole, is growing fonder of hydrogen fuel as its associated technologies make using the fuel more cost effective. Virgin Atlantic is expected to lead the charge of airliners that are looking to make the switch from fossil-fuel to alternative energy.