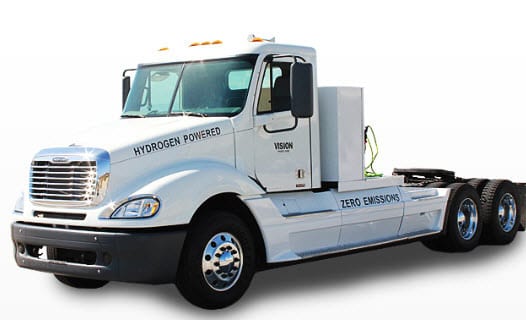 Vision Industries completes sale of 100 hydrogen-powered trucks
May 20, 2012
Fuel cells becoming popular in the distribution industry
Heavy duty hydrogen fuel cells, those often used in large commercial transportation, are quickly becoming a popular option for companies in the U.S. Fuel cells have been seeing a great deal of use in the auto industry at large, but automakers have kept their focus on small energy units that are ideally suited for personal vehicles. Larger vehicles, such as trucks used for transporting cargo, require more powerful fuel cells. These large, hydrogen-powered cargo trucks are beginning to gain traction with distribution companies looking to save costs on fuel and reduce their impact on the environment.
Tyrano truck causing a stir amongst trucking companies
Vision Industries, a car manufacturer based in the U.S., revealed its first hydrogen-powered cargo truck, the Tyrano Class 8 in 2009. The Tyrano boasts of a single, high-performance hydrogen fuel cell that Vision Industries claims is significantly more powerful than conventional diesel engines. The Tyrano is considered a behemoth in the hydrogen-powered transportation industry and has proven somewhat popular with distribution companies over the past year. That popularity seems poised to increase this year as Vision Industries announced another company has completed purchases of the Tyrano Class 8 truck.
Total Transportation Services becomes latest company to adopt Tyrano trucks
Total Transportation Services, a transportation company with a commitment to being environmentally friendly, has purchased 100 units of the Tyrano Class 8 truck. According to the deal between Vision Industries and Total Transportation Services, the latter may purchase an additional 300 Tyrano trucks for approximately $108 million. The order requires Vision Industries to begin manufacturing new Tyrano trucks this year, which is expected to bring dozens of new jobs to the market.
Infrastructure remains a concern, could impair the adoption of fuel cells
The deal is considered a sign that the trucking industry has embraced hydrogen fuel. More companies have begun to embrace the viability of hydrogen fuel cells because of their performance. Some have expressed concern over the lack of a hydrogen fuel infrastructure, which could hamper the adoption of hydrogen fuel cells.