Wave energy to come to Mexico
December 4, 2015
Plans have been made for a 10 megawatt wave farm project off the coast of Mexico.
Finland-based wave energy technology developer, AW-Energy, and Mexican renewable energy developer, ENAL, have signed a Memorandum of Understanding to develop, design and deploy a 10 megawatt (MW) wave farm that would be installed off the Pacific coast of the country. It will be one of the largest wave farms in the world and the first to operate in the Americas, reported Renewable Energy Magazine.
The project will create an entirely new marine energy industry in Mexico.
This new industry will serve both the local market as well as international markets. It will also create important employment opportunities.
CEO of AW-Energy, John Liljelund, said that while he is excited about the opportunity the Mexican agreement brings to AW-Energy, he is also thrilled that the company is "now kick-starting the development of wholly new industry in Mexico and the Americas."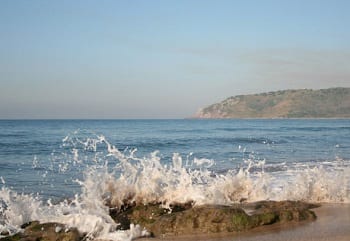 Last month in Finland was the first time news of the Mexico project was announced. The announcement was made in conjunction with the inauguration of AW-Energy's wave energy converter test facility in Järvenpää, which is the world's largest wave power test facility.
The wave energy company is best known for its WaveRoller device.
AW-Energy's WaveRoller is a submerged wave energy convertor. In other words, it transforms ocean waves into energy and electricity. The device is designed to operate close to the shore (about 0.3 to 0.2 km from the shore) and is positioned underwater at depths that range between eight and 20 meters. The device produces electricity from wave movement and is connected to an onshore electric grid.
One WaveRoller unit is rated at between 500 kilowatts (kW) and 1000 kW and has a capacity factor of 25-50% depending on the wave conditions at the site. A wave farm may feature numerous devices.
The CEO of ENAL, Gerardo Hiriart, commented that the pioneering renewable energy project could represent the first practical use of ocean energy in Mexico and may soon be expanded to other Latin American countries.
Liljelund said of the Mexico wave energy project that "I am highly pleased to see that we [AW-Energy] are making progress on various fronts and with the Mexican agreement we now extend our reach of commercial development to eight countries globally."