Over 400 UK churches make green energy switch
April 5, 2016
The Big Church Switch initiative has been successful.
More than 400 churches in the United Kingdom are planning to make the switch to green energy to obtain the power they need for light and heat, as part of the Big Church Switch, a clean energy initiative launched by two Christian charities – Tearfund and Christian Aid – back in February. The initiative urged UK churches and households to use renewable sources of power instead of fossil fuels to help reduce carbon emissions and combat climate change.
The hundreds of churches switching to clean power will result in spending over a million dollars on renewables.
According to a report from Reuters, the two Christian charities said that it is expected that with so many churches making the green energy switch, an estimated spending of 1 million pounds ($1.4 million) will be poured into renewables instead of fossil fuels.
The online platform established by the charities connects those who register with energy experts, who promise to find participants with the best renewable deal by negotiating with energy providers.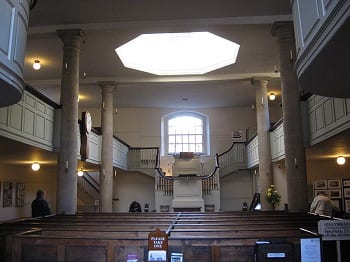 In a statement, the Anglican bishop of Manchester said that "As individuals and churches we have a choice in how we treat the earth, how we spend our money, how we power our homes and our buildings." He added that making the most of renewable energy is a sensible approach for helping to repair the damage done by climate change and ensures that everyone is actively involved in being part of the solution.
The oldest Methodist chapel in the world has even opted for green energy.
The New Room in Bristol, an historical building and the world's oldest Methodist chapel built in 1739 by John Wesley, is among the over 400 churches that have registered with the Big Church Switch.
The manager of The New Room, David Worthington, said in a statement that even though The New Room may be the world's oldest Methodist building, this does not mean it has to use the "polluting energy of the past."
He added that switching to clean power sources is a simple thing to do to help do their part in assisting the global transition to a carbon reduced world.
"If we, in a building as old as ours, can embrace the idea of renewable energy, then anyone can," Worthington said.
So far, 424 churches have signed up for the Big Church Switch to begin negotiations to start using green energy.