Air Products sells hydrogen fuel station to Hyundai
December 16, 2014
New hydrogen fuel station will be used by Hyundai Australia
Air Products, a leading producer of industrial gases, has announced that it has sold a hydrogen fuel station to South Korean automaker Hyundai. The new fuel station will be used by Hyundai's Australian division, which is currently demonstrating the new ix35 fuel cell vehicle. The new fuel station will help ensure that the ix35 has access to the fuel it needs and fueling technology developed by Air Products will on display at the station.
Air Products continues to work to bolster fuel infrastructure throughout the world
Air Products has been working with numerous automakers in order to develop a comprehensive hydrogen fuel infrastructure. The company is part of various infrastructure projects taking place throughout the world. These projects are needed to ensure the success of fuel cell vehicles, which many automakers plan to release beginning in 2015. Without a working infrastructure, fuel cell vehicles are not likely to be popular among consumers.
Hyundai plans to demonstrate the capabilities of its new fuel cell vehicle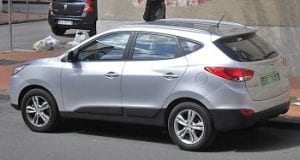 Hyundai is currently demonstrating the capabilities of its new fuel cell vehicle in Australia as part of a larger promotional campaign. The automaker is working to convince consumers that fuel cell vehicles are more efficient than other clean vehicles but can perform on par with internal combustion vehicles. Hyundai has been promoting its ix35 vehicle in Europe and Asia, claiming that the vehicle is more than capable of meeting the driving needs of consumers and even government agencies.
Air Products involved in more than 180 infrastructure projects
Air Products accounts for more than 1 million hydrogen fills every year, the majority of which come from light-duty vehicles, such as forklifts. The company is currently involved in more than 180 hydrogen infrastructure projects, providing efficient fueling technology and hydrogen production methods. As the world's hydrogen infrastructure continues to take form, fuel cell vehicles are gaining more attention from consumers. In the future, fuel cell vehicles may become quite popular, if they manage to receive the infrastructure support they need to become so.