Hyundai brings hydrogen fuel vehicle to Australia
December 15, 2014
New ix35 arrives in Australia as Hyundai continues to promote its fuel cell vehicle
Hyundai's new fuel cell vehicle has arrived in Australia. The ix35 has been heavily promoted in many parts of the world, showcasing its ability to compete with conventional vehicles yet remain environmentally friendly. The European Union chose the ix35 as one of its official vehicles recently, and the car will be used to transport government officials. Hyundai's fuel cell vehicle has already generate a great deal of hype in some parts of the world, and the automaker is looking to add further momentum to the vehicle's growing fame.
Hyundai is the first major company to bring a fuel cell vehicle to Australia
The ix35 will be the first fuel cell vehicle from a major automaker that will come to Australia. Hyundai will be using the vehicle for testing purpose beginning early next year. The automaker intends to show off the capabilities of the ix35, comparing it to more conventional vehicles running on gasoline and those powered by lithium-ion batteries. Hyundai plans to build its own hydrogen fuel station to support the vehicle, from which it will also demonstrate its fueling technology.
New hydrogen station will put solar energy to use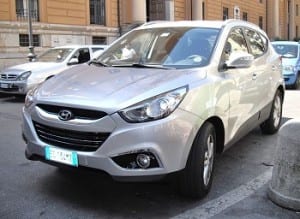 The new hydrogen fuel station being built in Australia will make use of solar energy to power the production of hydrogen. Modern production methods currently rely on fossil-fuels, such as natural gas, making hydrogen somewhat hazardous for the environment. By tapping into the power of the sun, hydrogen can be made a more viable alternative to fossil-fuels, as its production will not be associated with any harmful emissions.
Lacking infrastructure may create problems for fuel cell vehicles in Australia
Hyundai's ix35 is already available in the United States for lease. Drivers can get the vehicle for $499 a month with a three-year lease, accompanied by a $2,500 down payment. The vehicle may be somewhat more expensive in Australia, depending on whether or not the government opts to promote the vehicle with financial incentives. Currently, Australia has a small hydrogen fuel infrastructure, which may struggle to support the launch of fuel cell vehicles.