Denmark produced140 percent of its electricity from wind energy
July 15, 2015
An unusually windy day enabled Demark to reach all of its electricity needs with power to spare.
Last week, the country's wind farms managed to generate 140 percent of Denmark's national electricity needs, which meant that not only was there enough power produced by wind energy to meet the demands of the country, but the excess power was also exported to Germany, Sweden, and Norway.
The wind turbines were not even operating at full capacity at the time this massive power production occurred.
On July 9, the wind farms produced a 16percent surplus of energy during the day and another incredible 40 percent surplus overnight. According to The Guardian, the figures appeared on energinet.dk, the Danish transmission systems operator site, which gives a minute-by-minute account of renewable energy in the national grid. The site revealed that when this incredible power production occurred, the turbines were not operating at full capacity.
Interconnectors enabled 80 percent of the energy surplus to be equally shared between Norway and Germany, while Sweden took the remaining fifth of the extra energy.
Denmark could reach its goal of producing half of its power from renewables, like wind energy, before its set target date.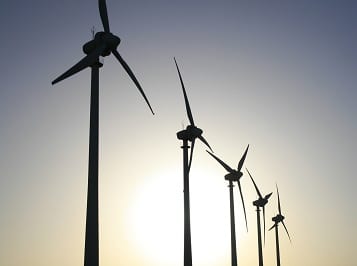 This recent renewable energy production achievement in Denmark proves that powering the world via renewables is a real possibility, according to Oliver Joy, a spokesperson for The European Wind Energy Association (EWEA).
Joy said that "it shows that a world powered 100% by renewable energy is no fantasy." He added that "Wind energy and renewables can be a solution to decarbonisation – and also security of supply at times of high demand."
Furthermore, the chief commercial officer of energy consultancy, Ecofys, Kees van der Leun, feels that a swell in wind farm installation could mean that the country might generate half of its electricity from renewables long before its 2020 target date. The CCO said that "We're seeing a year-on-year 18% growth in wind electricity, so there really is a lot of momentum."
Although it utilizes other renewable sources to generate clean power, resently, an estimated three quarters of Denmark's wind capacity is the result of onshore wind energy.