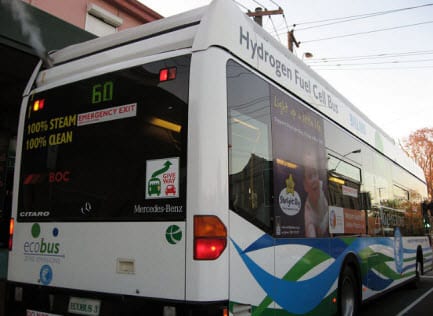 Hawaiian park to introduce hydrogen powered buses
January 7, 2013

Two hybrid buses using both hybrid battery and hydrogen fuel will be used at Hawaii Volcanoes National Park this spring to move visitors around the park.
Congestion continues to be a problem as visitors try to make their way through the narrow roads in the area. The winding, historic roads in the park are hard to navigate with heavy traffic. Park officials sought a way to keep visitors coming and going while reducing congestion and using an environmentally friendly mode of transportation. Areas like the Thurston Lava Tube lack enough parking spaces on any given day, reports park superintendent, Cindy Orlando.
Eco-friendly transportation
The buses were purchased and shipped last year from a seller in Kansas. They are now being converted at the Hawaii Center for Advanced Technologies to fit the needs of the park as well as to make the buses eco-friendly. According to Ms. Orlando, this process includes removing some of the bus parts to add hydrogen fuel cells and electric motors. The two shuttles are 8 feet in width, 35 feet long, will carry up to 25 park visitors each trip, and are the right size to navigate the roads within the park. 
Test run
The buses will pick up visitors every 20 minutes and take them on a loop past the most popular spots in the park. They will be running daily between the hours of 9 and 3 p.m. seven days a week. The park plans to monitor the number of riders each day throughout a two year trial run to make sure the buses run on the most efficient schedule possible.
With a rate of 1.3 million visitors a year, the park only continues to draw more people. "We're a very popular destination with lots of traffic congestion," Ms. Orlando said. "We'll see how some of that congestion is relieving, and the routes will be subject to change."
Safe, clean hydrogen
The hydrogen will be supplied by the Puna Geothermal Venture plant. The plant splits water into its two basic elements of oxygen and hydrogen using electrolysis. The energy that is used for this process is geothermal with allows zero emissions during fuel production. The fuel will then be stored at a dispensing station within the park and monitored for safety.