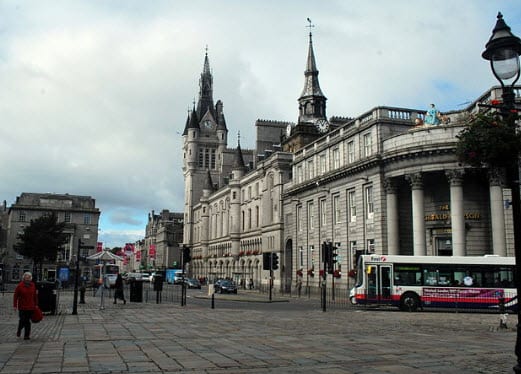 Hydrogen-powered buses coming to Aberdeen, Scotland
August 17, 2012
Scottish government announced plan for hydrogen hub in Aberdeen
A new clean energy hub is to take root in Aberdeen, Scotland, this year. First Minister Alex Salmond has announced plans for the city to play host to the hub, which will primarily be focused on the provision of hydrogen fuel. The hub will service the largest fleet of hydrogen-powered buses in Europe, which includes 10 vehicles in all. The plan is backed by roughly $4 million in funding from the European Union as well as that coming from the Scottish government and Scottish Enterprise.
Hub will provide fuel for fleet of hydrogen-powered buses
The hub is currently under construction in Aberdeen and is expected to be partly operational by the end of the year. The hub will include the largest hydrogen fuel station in Scotland, which will be used to provide fuel to the buses that will make their way to the city at some point in early 2014. Hydrogen-powered buses have become a popular option for governments looking to adopt a more environmentally friendly public transportation system.
Fuel station to make use of wind energy to produce hydrogen fuel
The hydrogen fuel station in Aberdeen will feature technology developed by Scottish & Southern Energy Power Distribution and BOC, a producer of industrial gases, that will enable the production of hydrogen fuel through the use of wind energy. Wind turbines will be used to produce the electricity needed to generate hydrogen gas, which will then be stored or distributed according to the needs of the hydrogen-powered buses.
Aberdeen clean energy hub backed by Green Bus Fund
The initiative is backed by Scotland's Green Bus Fund, which is currently supporting the deployment of 74 environmentally friendly buses. Aberdeen has been a strong advocate of hydrogen fuel in the country and has worked to ensure that it becomes a staple in public transportation. The hydrogen-powered buses that are coming to the city are expected to help offset the emissions that have been released through years of burning fossil-fuels.
Related article(s) and resources:
http://www.fuelcelltoday.com/news-events/news-archive/2012/august/aberdeen-hydrogen-hub-bus-project-announced-by-first-minister-alex-salmond