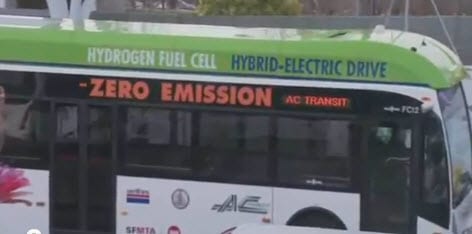 Hydrogen-powered buses reach milestone in the UK
July 12, 2012

Air Products announces that hydrogen-powered buses show progress in public transportation
Air Products, a leading producer of industrial gases, has announced that the United Kingdom's fleet of hydrogen-powered buses has reached a significant milestone. The buses have been operating on London Buses' RV1 route since early 2011. The hydrogen-powered buses are operated by London Buses and fueled at one of Air Product's hydrogen fuel stations at the Lea Interchange Stratford. The company notes that the milestone is yet more evidence of the viability of hydrogen fuel in the world of public transportation.
Fuel cells continue to grow more popular in transportation
Hydrogen fuel has been growing more popular in the world of transportation. Fuel cells, the energy systems that convert hydrogen fuel into electricity, are often acclaimed for their efficiency and status as a zero emissions technology. In transportation, fuel cells are often used to power buses, such as the fleet being operated by London Buses. These particular fuel cells are often proton exchange membrane (PEM) variants.
Hydrogen-powered buses surpass 100,000 miles of service
According to Air Products, the London Buses fleet of hydrogen-powered buses has surpassed 100,000 miles of service. The hydrogen-powered buses were able to accomplish this feat with approximately 1,000 full tanks of hydrogen fuel. Each tank enabled a bus to operate for at least 18 hour intervals. The buses have shown little to no trouble in conducting their duties during their operational period.
Fuel cell viability debate may soon be put to rest
The viability of hydrogen fuel cells, especially in the realm of transportation, is often a subject of controversy. Some argue that fuel cells are not efficient or affordable enough to see widespread use, especially amongst commercial consumers. Air Products, however, notes that the fuel cells used to power the buses in London have shown themselves to be more than capable of handling the demands of public transportation.
Related article(s) and resources: