Landfill solar project moves ahead in Massachusetts
January 20, 2015
Northampton is planning solar energy projects to help reduce its carbon footprint.
Northampton, a city in Massachusetts, is seeking to become greener by turning an old landfill into a solar farm, which the city hopes will help provide it with a new source of revenue, and the project could begin as early as this summer.
Many other municipalities in the state have converted old waste dumps into green energy producers.
Northampton will not be the first municipality in the state to transform old landfills into solar farms, but it may be the first in its region to install solar panels in parking lots. According to the city's energy officer, Chris Mason, solar arrays may be installed at some municipal parking lots, which would be a first in Western Massachusetts.
The landfill that is being considered for the solar project has been closed in the city of Northampton for two years. The 15-acre site has generated plenty of controversy over its years of operation, as well as lawsuits from neighbors, due to its foul stench. However, the capped landfill has finally settled sufficiently enough to make the construction of thousands of solar panels at the site, a possibility.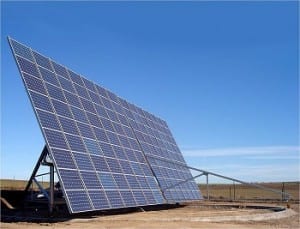 Mason explained that Northampton will be requesting proposals from solar energy firms to construct and operate a large solar array at the site. However, project details are still being decided.
It is estimated that the solar landfill will generate 3-4 megawatts (MW) of power.
Mason said that, a few years ago, an engineering study was conducted by Smith University students, and they approximated 3-4 MW could be generated from the site. To put that into greater perspective, it would take about 20,000 solar panels in order to support a 4 MW system. However, Mason stated that "It is probably going to be on the low end of that because we are only going to use the flat part of the landfill."
In addition to its landfill, the city is using a state grant of $10,000 to find out, via an engineering study, if solar panels could be installed at any of the parking lots that are owned by the city. There are eight parking lots in total. The city is also seeking to determine if panels can be installed on the roofs of the new police station and the downtown parking garage.