Maine aims to revise its wind energy goals
March 6, 2014
State's current goals concerning wind power may be too lofty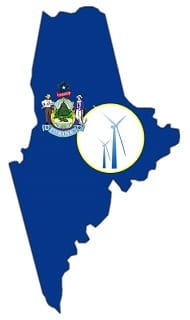 Five years ago, Maine established ambitious goals concerning its use of wind energy. The state has been working to embrace renewable energy more effectively for some time in order to take advantage of the economic opportunities that are associated with clean power. Over the past several years, the state has struggled to make any significant progress towards its clean energy goals. Now, Governor Paul LePage has claimed that the wind power goals of the state are unreasonable because they are too ambitious.
New legislation aims to establish new goals for the state
Governor LePage has introduced new legislation that would put an end to the state's current goals concerning wind power. The governor suggests that the initial goals were unrealistic, forcing the state to take steps that were counterintuitive when it came to the support and adoption of wind power. As such, Maine has made little progress toward its goals. The new legislation aims to rectify this issue by laying the old goals to rest and introducing new ones that may be easier to achieve.
Current goals may be impossible to achieve
Under the state's current goals, it is pursuing the development of no less than 2,000 megawatts worth of wind energy capacity installed throughout the state by 2015. This is set to increase to 3,000 megawatts of installed capacity in 2020. Supporters of these goals suggest that they are essential in attracting the attention of investors. Private investors are more important to wind power now than they have ever been in the past due to the expiration of the Production Tax Credit. This initiative from the federal government had provided the wind sector with the financial support it needed.
Legislation may help ensure that wind projects complete development
The legislation from Governor LePage has attracted some support from those that believe the state's current goals are impossible to achieve. By adopting more realistic goals, Maine may be able to see some progress in its use of wind energy. More realistic goals could translate into wind projects actually being completed rather than several projects remaining in early stages of development for years.