NC county to develop the state's first solar farm on old landfill site
March 15, 2016
Onslow County is planning to have the first landfill solar panel project in North Carolina.
The solar farm project in Onslow County, which will be developed on an old county landfill no longer in use, will be the first of its kind in North Carolina and is expected to generate revenue. The plan is to install 6,000 solar panels across the 15 acres of covered landfill. Installing the solar panels is the second phase of the county's Solid Waste Renewable Energy Program, reported The Warner Cable News.
The county also has a landfill gas to energy plant.
Back in 2012, as part of the region's green energy efforts, county officials started a Solid Waste Renewable Energy Program at the Onslow County Landfill. The first phase of the program was to build a landfill gas to energy plant, which was built at no cost to the county. Placing the solar panels on the landfill will be the next phase.
Solid Waste Director Scott Bost said about the project that the landfill is ideal for solar panels, not only because it's flat and the size is right, but it also faces southwest.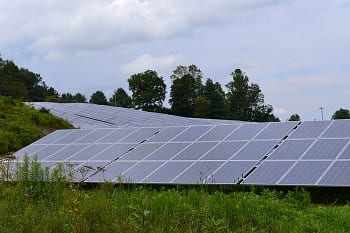 "It's the first of its kind in the state because no one has ever done a solar panel installation on a closed landfill," Bost said.
The solar farm project will also be built at no cost to tax payers.
In addition to generating renewable energy from the solar farm, the county will generate a profit.
The energy from the landfill gas to energy plant will combine with the energy generated by the solar panels and be distributed via an interconnector. From there, the interconnector will feed the energy through power lines and into business and homes that are powered by Duke Energy.
According to the agenda, the project developer, Charlotte-based Enerdyne Power, will receive most of the profits but must also pay an annual $10,000 lease fee to Onslow County for each solar site. The county and the developer will convert the license for solar energy projects at the landfill to a lease up to 25 years. That said, beyond the lease fee, it is unknown how much of a profit the county will make from the renewable energy project.
Commissioner Chairman Barbara Ikner commented that "It will be profitable but to what degree we won't know until we have a couple months of actually online." Inker also added that "All 99 other counties are looking to us to set the path as to how we can make this profitable for our citizens."
Construction of the landfill solar farm project is slated to begin this summer.