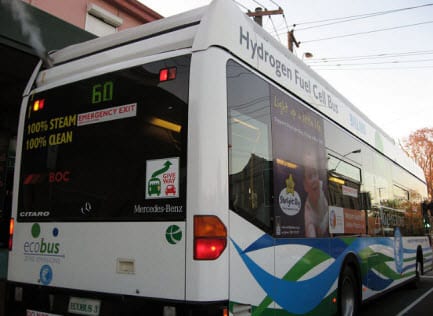 New website tracks hydrogen-powered bus projects around the world
July 11, 2012

CTE launches new website to keep consumers in the loop on hydrogen transportation
North Carolina State University's Center for Transportation and the Environment (CTE) has launched a new website that tracks the progress of hydrogen-powered bus projects all over the world. The use of hydrogen fuel cells in public transportation is becoming increasingly popular as governments begin become more familiar with the potential benefits of the energy systems. Several countries are now home to hydrogen-powered bus projects of varying scopes. The CTE is keen to ensure that alternative energy and transportation enthusiasts are able to keep updated on the latest developments concerning these projects.
Governments beginning to see the merits of fuel cells for public transportation
Hydrogen fuel cells are on their way to becoming a staple throughout the world of transportation. The auto industry has already been inundated with fuel cells, with many of the industry's largest manufacturers utilizing the energy systems for future vehicles. As governments begin to show more concern over the cost of fuel and energy, fuel cells have begun making their way into the public transit sector where they are often used for buses.
Website will contain a database of world's hydrogen-powered bus projects
The CTE's new website boasts of an expansive database containing a unique webpage for each hydrogen-powered bus project that is being tracked. The site will track completed, pending, and active projects and provide detailed information concerning the progress of these projects and the impact hydrogen-powered buses are having in their areas of operation. Visitors to the site will also be able to learn the basics of hydrogen fuel cells and how they could be used in transportation.
Initiative is part of National Fuel Cell Bus Program
The website is part of an initiative from the Federal Transportation Administration called the National Fuel Cell Bus Program. The program is aimed at commercializing hydrogen fuel cells for use in buses as well as bolstering the fuel infrastructure to make widespread use of hydrogen-powered buses possible.
Related article(s) and resources: