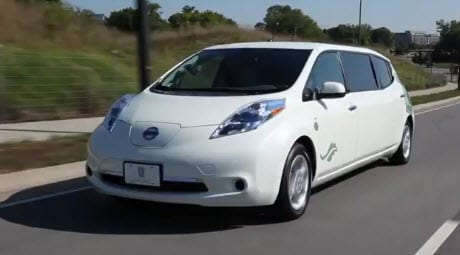 Nissan stretches the LEAF into a new luxury vehicle
July 29, 2012
Nissan continues to show favor for lithium-ion batteries
Nissan remains one of the few major automakers that have yet to fully embrace hydrogen fuel. Though the automaker has recently taken an interest in fuel cells, much of its focus remains on fossil-fuels and lithium-ion batteries. Its decision to keep its focus limited is partly due to the success of its LEAF electric vehicle. Over the years, Nissan has introduced various models of the LEAF in an attempt to meet the demands of consumers and show off the capabilities of electric vehicles in general. The company's latest variation may be somewhat of a stretch.
LEAF becomes a limousine
The LEAF is well known for its somewhat compact size and energy efficient nature. Nissan has taken pride in these facts, lauding the vehicles neutral impact on the environment and the fact that it could save consumers a great deal of money. Nissan has begun pushing the limits of the LEAF recently in the hopes of preparing the vehicle, as well as the company's lithium-ion battery technology, for competition against hydrogen-powered vehicles. This week, the automaker unveiled the world's fist electric limousine, which is, at its core, a Nissan LEAF.
Limousine variant retains much of the basic elements of the LEAF
The LEAF limousine is the first of its kind. The vehicle is completely street legal, licensed and has been deemed worthy of the road by Nissan. The automaker chose to keep the majority of the LEAF's essential parts intact for the project. The entire vehicle is still powered by a single lithium-ion battery pack, which is capable of handing the 400 pounds of weight that has been added to the vehicle.
Nissan gains praise for new luxury vehicle
The LEAF limousine will be used primarily for VIP car service at the Embassy Suites hotel in Tennessee. Some of the hotel's guests have already taken a ride in the vehicle, many of whom have never before been inside an electric vehicle. These guests claimed that the ride was smooth and praised the room provided by Nissan.
Related article(s) and resources:
http://nissannews.com/en-US/nissan/usa/releases/stretch-electric-world-s-first-electric-nissan-leaf-limo-debuts-in-tennessee